Instant Divorce Unconstitutional, India's Top Court Rules
By and
In split verdict, court rules Muslim 'triple talaq' is illegal

Women's groups are likely to praise supreme court's decision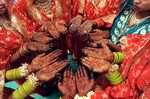 India's top court has ruled that Muslim men can no longer instantly divorce their wives, in a closely watched case that has divided opinion in the country's 170-million strong Muslim community. 
In a ruling on Tuesday, the Supreme Court of India ruled as unconstitutional the divorce procedure known as "triple talaq," in which a Muslim man can instantly leave his wife by saying the word "talaq" -- which means divorce -- three times.
Three members of a five-judge bench headed by India's chief justice J.S. Khehar said the law was unconstitutional.
"Triple talaq is against the basic tenets of the Holy Koran and consequently, it violates Shariat," said Justice Kurian Joseph, one of the three judges in majority on the panel, who said the practice is not an integral part of Islam.
The case is likely to be praised by women's rights activists, who disliked the law because it allowed men to instantly disown their wives and shirk familial responsibilities. As the case progressed, several Muslim women and women's groups petitioned the court, opposing the practice.
However, some Muslim leaders have viewed the push against instant divorce as an assault on India's tradition of allowing its sizable Muslim minority to govern itself by some Islamic laws -- known in India as Muslim personal law. Chief Justice Khehar, on behalf of himself and Justice S. Abdul Nazeer, who were in the minority, said instant divorce could not be held unconstitutional because it was part of Muslim personal law.
Hindu nationalist Prime Minister Narendra Modi's ruling Bharatiya Janata Party has pushed for a so-called "uniform" civil code that would apply equally to all Indians, a move some Muslim groups have opposed. Modi described the ruling as "historic", tweeting "It grants equality to Muslim women and is a powerful measure for women empowerment."
Since Modi's party rose to power in 2014, there have been numerous attacks on India's Muslim minority by Hindu radical vigilantes. Some Muslims have been beaten to death on the suspicion they were eating or carrying beef in a country where Hindus revere cows as sacred.
Before it's here, it's on the Bloomberg Terminal.
LEARN MORE