Macron Gets Down to Business in EU Tour to Curb Cheap Labor
By
French president starts off in Austria, then Romania, Bulgaria

Protests over labor reform planned in France as showdown looms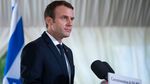 French President Emmanuel Macron kicks off a European Union diplomatic blitz Wednesday seeking nothing less than to reshape the bloc's stance on subjects ranging from cheap labor to defense and border controls.
Down in the polls and with implementation of his touchstone policy of labor-market reform looming, the president is looking to chalk up a European victory to prove that his plans are coherent and practical.
At stake in his EU dealings is his core campaign promise to French voters: that belonging to the bloc is not just about budget austerity and free-market reform, but also about offering workers the best possible defenses in the face of global competition.

"Macron's whole argument against Marine Le Pen was that Europe needed to be energized and that it could offer protection," said Philippe Waechter, head of economic research at Natixis Asset management in Paris. "In many ways, together with the labor-market reform, Macron is now getting into the meat of his program."
The 39-year-old president starts his trip in the Austrian city of Salzburg, where Czech and Slovak leaders will join him for talks with Chancellor Christian Kern, before he travels on to Romania Thursday and then Bulgaria Friday. There, he'll press for tougher rules to limit employers' use of workers based in other countries, as well as for greater European cooperation on issues including migration and defense. Next week he hosts fellow leaders of Germany, Italy and Spain, then meets Benelux premiers before heading to Greece on Sept. 7.
Notably missing from this leg are meetings with the leaders of Poland and Hungary, two governments that Macron has said fail to respect the EU's democratic values and which are vehement defenders of the bloc's single-market rules, including the unfettered movement of labor.
'Detached Workers'
A key issue for Macron concerns what the French call "detached workers," which typically involve workers from low-wage eastern European countries being brought to France to perform tasks that would be more expensive to hire for locally. There are an estimated 300,000 such workers in France and they offer employers substantial savings. The minimum wage in France is about 1,480 euros ($1,740) a month. In Poland, it's about 450 euros.
Austria's Kern supports Macron's efforts to tighten the EU rules on what are also known as posted workers, arguing there are too many loopholes that allow wage dumping. Austria, situated at the confluence of east and western Europe, is struggling with stagnating real wages in part because of the competition from cheaper foreign labor, especially in areas like construction or unskilled labor.
Macron wants EU rules to limit each posted worker to one year of work in every two in the host country. His aim is to ensure that minimum wage and social charges are applied and spur improved cooperation between governments to fight fraud.
As he Macron his case across Europe, at home French Labor Minister Muriel Penicaud is in the final stages of consultation with unions and business lobbies about a labor-law overhaul that will make it cheaper and easier for companies to cut staff. Changes to the rules will be published at the end of August, just as most employees return from summer vacation, to enable enforcement in September.
Hollande Warning
Macron's predecessor as president, Francois Hollande, issued a warning Tuesday not to ask the French people for "useless sacrifices," according to Agence France-Presse. "There is no need to add flexibility to the labor market over and beyond what we have already done. To do so risks creating ruptures," he said.
The CGT union has already called for demonstrations next month, and CFDT, the country's largest union, hasn't ruled out joining protests.
"The European project has a free-market orientation, in favor of privatization, cutting back the state, public employees and public spending: these are policies that most French people disagree with," said Thomas Guenole, a professor at Sciences Po in Paris. "But with the detached worker policy, Macron, a self-professed free-marketer, is showing that he's capable of defending positions that are against his own convictions but in his political interests."
At a time when the EU is negotiating Britain's withdrawal, Macron's struggle is also about convincing European governments more broadly that closer cooperation on subjects such as worker movement, external immigration and defense all can be better done at the EU level.
Macron needs to succeed domestically with labor-law changes to shore up his credibility on the European stage. Historically, protests by unions and students have prevented French governments from revamping the nation's notoriously rigid rules governing worker rights. While Macron already has parliamentary approval to push through the changes by executive order, the degree of support for protests next month will determine success or failure.
"The central question for French politics in September is undeniably labor-market reform," Guenole said. "For the government it's a double-or-nothing gamble. If the protests are weak or mediocre, he will get there. So the opponents' only chance of winning is to bring the government to its knees."
— With assistance by Boris Groendahl, and Wojciech Moskwa
Before it's here, it's on the Bloomberg Terminal.
LEARN MORE