Euro's Hot Streak May Survive Any Draghi Jackson Hole Jawboning
By
Traders to scrutinize Draghi's speech for currency clues

Autumn tapering announcement may overshadow euro concerns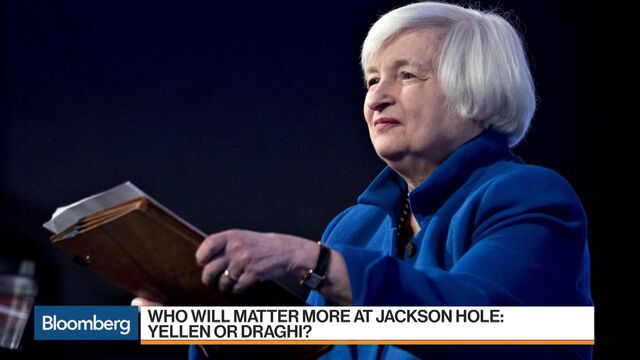 Any attempt to stall the euro's rise may prove futile for European Central Bank President Mario Draghi.
Fund managers at Carmignac Gestion SA and JPMorgan Asset Management expect the currency to continue its upward trajectory, regardless of whether Draghi uses his speech on Friday at Jackson Hole, Wyoming to give hints on how he views the euro's biggest annual gain against the dollar since 2003.
ECB officials sounded the alarm last week at the threat of an even stronger euro. Yet the market expects it to announce the scaling back of its 2.3 trillion-euro ($2.7 trillion) bond-buying program in either September or October, so efforts to jawbone the currency lower would have little effect long-term, according to Charles Zerah, a money manager at Carmignac.
"The market will scrutinize any sentences by Draghi at Jackson Hole and we are very conscious of that," said Zerah, who is long the euro, particularly against the yen. "The euro should still perpetually appreciate."

The common currency has rallied 12 percent against the dollar this year on improving economic growth and easing political risks following market-favorable election results in the Netherlands and France. An overly-strong euro would undermine efforts to restore price stability in the euro area, a challenge for policy makers eyeing a gradual exit from monetary stimulus.
Tapering "is very good for the euro," said Iain Stealey, a money manager at JPMorgan Asset Management, which is long the currency, looking for it to reach $1.20. "It doesn't particularly matter whether it's September or October, we do think they are going to announce the tapering and it's going to start in January."

For Gadfly Columnist Mark Gilbert's Take, Click Here.
The euro fell 0.2 percent to $1.1792 as of 8:30 a.m. in London, having reached a high of $1.1910 on Aug. 2. Against the yen, the currency was up 0.2 percent to 128.92.
Options market pricing shows the premium on three-month contracts to buy the euro versus the dollar over those to sell was at 0.43 percentage points, near an eight-year high reached in July, according to data compiled by Bloomberg.
JPMorgan Chase & Co. sees the euro reaching $1.25 by the third quarter next year, which would mark the highest level since 2014. Others also see the currency's momentum as being difficult to stop.
"Despite taking this verbal hit from the ECB last week, the euro continues to show the resilience of a boxer refusing to go down," ING Groep NV analysts led by Viraj Patel wrote in a report.
— With assistance by Anooja Debnath
Before it's here, it's on the Bloomberg Terminal.
LEARN MORE