Canadian Shopping Binge Reaches New Height in First Half
By
Sales were up 4.6% in first six months of 2017, a record

Policy makers anticipate consumption boom will continue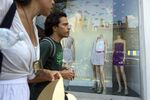 Canadian retailers posted a fourth-straight monthly sales gain in June, closing off a half-year performance that was one of the best for the sector on record.
Retail sales increased 0.1 percent during the month to C$49 billion ($39 billion), Statistics Canada reported. Retailers generated C$291 billion in sales in the first six months of 2017, a record. Sales were up 4.6 percent from the last half of 2016, which is the biggest half-year gain in the data going back to at least the early 1990s.
Canada has been in a consumption boom for years, as households binged on cheap credit. The appetite for spending has only increased over the past six months as the country emerged from the drop in commodity prices and the jobless rate fell to the lowest since 2008.

It's a remarkable run in spending that policy makers expect will continue, even as the Bank of Canada raises interest rates. Households will account for about two-thirds of growth over the next three years, the central bank projected last month. That would extend a pattern over the past 15 years that has seen consumers carry the bulk of the economic load.
"The retail sector continues to look strong," Andrew Grantham, an economist at CIBC World Markets, said in a note to investors.
The Canadian dollar advanced following the report, gaining 0.2 percent at 8:42 a.m. in Toronto trading to C$1.253 against its U.S. counterpart. The June numbers included a 1.4 percent drop in sales for motor vehicle retailers and parts dealers.
Excluding those, sales were up 0.7 percent in June versus expectations of a 0.1 percent gain. Economists had forecast a 0.2 percent gain for total retails sales during the month.
Gasoline sales also dropped in June because of lower prices. Excluding gasoline and autos, sales increased 1.1 percent during the month.
In volume terms, receipts for retailers increased 0.5 percent and are up 7.8 percent from a year earlier, which is the biggest 12-month increase since at least 2004.
Before it's here, it's on the Bloomberg Terminal.
LEARN MORE