Photo Illustration: Tom Hall/Bloomberg
Brexit Bulletin: 'Confused and Puzzled'
By
U.K. to set out its position on handling legal disputes post-split

Irish PM criticizes May's approach to Brexit
Sign up to receive the Brexit Bulletin in your inbox, and follow @Brexit on Twitter.
Britain is in a hurry to turn the Brexit talks to the topic of trade, but the European Union is counseling patience.
Prime Minister Theresa May's government will on Tuesday release another position paper on how it envisages its future relations with the EU. The latest focuses on how businesses and consumers can settle legal disputes after the breakup.
The flood of documents is aimed at rebutting EU criticism that the U.K. has been unclear what it wants from Brexit. But is also marks an attempt to pressure the bloc into bringing forward discussion of a long-term trade deal by highlighting the complexity of the issues at hand.
For example, Bart Van Vooren of Covington & Burling noted in a paper on Monday that the U.K. asked for British drug manufacturers to be able to release medicines to the European market after Brexit. Yet that would only work if Britain remains party to EU rules on pharmaceuticals, something that wil have to be discussed as part of a trade pact.
The EU is nevertheless holding firm to its view that it won't discuss trade until "sufficient progress" is made addressing the Irish border, Brexit bill and citizens' rights.
Irish Prime Minister Leo Varadkar added to the criticism, telling Bloomberg Television he remains "confused and puzzled" about the U.K.'s plan for trade after Brexit. He also dismissed May's stance on the border as unrealistic and said the EU is not happy with the progress of talks to date.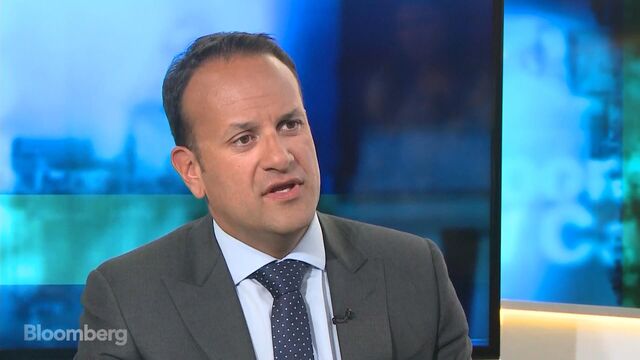 Brexit Latest
Rules of Origin | Manufacturers of "Made in the U.K." cars are facing a worrying dilemma: Their vehicles might not be British enough to escape expensive tariffs after Brexit. Current trade pacts generally require exporters to prove that 50 to 60 percent of a product's components are from the originating country to avoid duties. But U.K. cars now contain on average just 44 percent British-made parts, according to the Automotive Council. Such numbers mean auto companies are already bracing themselves for the U.K. to strike post-Brexit trade deals that will most likely require them to source more vehicle parts from within Britain. 
Economists Clash Round 2 | Patrick Minford of Economists for Free Trade hit back at critics of his new report, accusing them of being "trumped-up" and "hired hands." Jonathan Portes of King's College London said Minford had made "undergraduate level" errors in his paper which claimed Brexit could boost the U.K. economy by £135 billion.
Ireland Eyed | Toronto-Dominion Bank is close to choosing Dublin as its EU hub, a person familiar with the matter said. Canada's largest lender by assets has about 290 employees in its capital markets business in London.
Drugs Don't Work | The European Medicines Agency said it will scale back or temporarily suspend some of its lowest priority activities as it prepares to move from London and braces for potential staff losses.
On the Markets | The biggest derivatives industry group urged EU and U.K. policy makers to agree on a transitional period after Brexit for derivative contracts governed by English law to avoid stoking uncertainty and higher costs.
And Finally…
Covering your floor is about to get more expensive for the third time in a year.
Birmingham-based Headlam Group, which sells carpets and laminated flooring, will raise the cost of products it imports from continental Europe by 3 percent in September, following similar increases a year ago and in January.
"We only pass on price increases when our own costs go up," said Catherine Miles, director of communications at Headlam.
For more on Brexit follow Bloomberg on Twitter, Facebook and Instagram
(
Corrects the affiliation of Jonathan Portes.
)
Before it's here, it's on the Bloomberg Terminal.
LEARN MORE