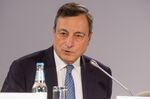 Mario Draghi is about to discover that what goes up doesn't necessarily come down.
On Thursday, the European Central Bank revealed that "concerns were expressed about the risk of the exchange rate overshooting in the future" at its July 19-20 policy meeting. The euro duly dived to a three-week low; but its decline proved temporary.

It's almost a decade since Jean-Claude Trichet, Draghi's predecessor at the helm of the ECB, tried and failed to jawbone the common currency lower. In November 2007, Trichet said "brutal moves were never welcome" in the foreign exchange market: "We would consider excessive volatility and sharp and upward moves in exchange rates counterproductive," he said.

At the time, the euro had risen almost 10 percent against the dollar in the preceding half year. In the six months following Trichet's verbal intervention, it added another 8 percent and reached an all-time high of $1.60, even after a second attempt to talk it down in March 2008.
The euro's current value of a bit less than $1.18 is a far cry from those heady heights. The worry for the ECB, though, is that its 8 percent gain this year against the currencies of the bloc's major trading partners will make meeting its 2 percent inflation target even harder -- hence its attempt to talk the currency lower.
It's a belated intervention. At the press conference following the bank's July meeting, Draghi ignored an opportunity to bemoan the currency's strength, limiting himself to saying that the "repricing of the exchange rate has received some attention."
The problem in trying to persuade traders and investors to stop pushing the euro higher can be found in the ECB's Thursday release. "The appreciation of the euro to date could be seen in part as reflecting changes in relative fundamentals in the euro area vis-a-vis the rest of the world," it conceded.

With political turmoil undermining appetite for dollars and pounds, the euro is becoming something of a safe haven, especially against the backdrop of an improving economy. Until and unless that changes, any calls from the ECB for a halt in the euro's gains are likely to fall on deaf ears.
Before it's here, it's on the Bloomberg Terminal.
LEARN MORE