China's Metal Frenzy Sparks Investor Rush to Smokestack Debt
Bloomberg News
Coal company notes provide highest returns after electronics

Old economy firms tend to be more indebted than wider market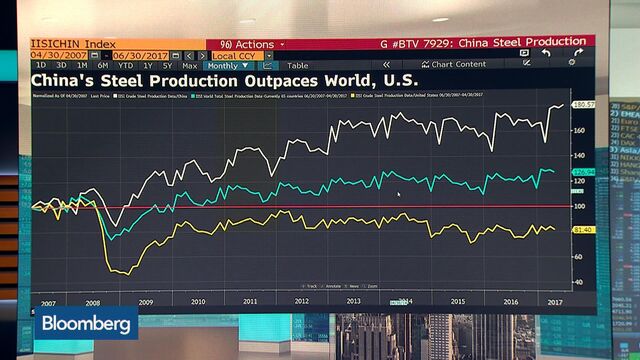 China's so-called old-economy companies are enjoying a renaissance in the debt market, bouncing back from a beating on Beijing's quest to modernize growth.
Pressured to reduce capacity and tackle emissions since the end of 2015, coal and metal companies are now seeing some payoff, with a surge in raw materials prices contributing to buoyant earnings -- making their credits a hot commodity. Market pariahs a year ago, when their debt lost money for investors, these companies have staged a turnaround.
Coal bonds have returned 5.74 percent in the past six months, the second-best performance in China after electronics. They're followed by the 5.5 percent returned on notes issued by iron and steel firms. Companies are boosting supply to meet the demand, with 41 billion yuan ($6.2 billion) of AAA rated onshore bonds already sold this quarter.

"The overcapacity curbs have eased competitiveness" said Xu Hua, deputy head of research at Colight Asset Management in Shanghai, which has about 30 billion yuan under management. "Upstream industries like coal, steel and petroleum refining have the strongest profitability."
China is trying to pivot its economy toward newer, high-tech industries, while also making the old ones that have fueled growth for decades leaner and more resilient to potential shocks. That belt tightening has made metals rock-star commodities this year, with reduced output from Chinese producers boosting prices for aluminum to gold. Coking coal, used in steelmaking, has also recovered from a mid-year slump, surging to 2017 highs in China.
The price boost has translated into profit gains, with Aluminum Corp of China Ltd., the top state-owned smelter, posting an 11-fold increase in first-half earnings, and Hesteel Co., the nation's second-biggest steelmaker, predicting net income could almost triple in the first six months of 2017.
In fact, the 179 China-listed companies in the metals, mining and coal industries reported a total 26.1 billion yuan in profit in the first quarter, compared with a loss of 1.7 billion yuan in the same period of 2016, data compiled Bloomberg show.
Capacity Cuts
The government's supply-side reform initiative has been good for sectors that have struggled with overcapacity, says Hong Kong-based Patrick Song, a portfolio manager for CSOP Asset Management, which oversees $4.8 billion.
"For China onshore credit, we continue to prefer those leading companies in overcapacity industries," he said. "We have seen some consolidation, there will be more consolidation -- their profitability has improved significantly."
Demand has seen debt costs slide. Aluminum Corp., known as Chalco, saw yields of as much as 5.6 percent on its AAA rated debt due 2018 last year. In 2017, the yield has dropped 10 basis points to 4.84 percent, according to Chinabond data. Similarly, yields have retreated for steelmakers and coal companies.

Steel-company shares have also been soaring: read more here.
But for many of these companies, weathering the government's policy shifts and the downturn in metals prices through the first half of last year required significant borrowing. Chinese companies active in metals and mining, coal operations, iron and steel, and steel production had an average a debt-to-equity ratio of 129 percent as of March 31, Bloomberg data show. That compares with an average ratio of 87 percent in other industries.
Debt Piles
While the worst may be over for these companies, investors need to keep their eyes open, according to Zhang Qinghua, general manager of fixed income at E Fund Management Co. in Guangzhou, which oversees about 484 billion yuan in assets.
"We shouldn't ignore the fact that companies in overcapacity industries still have higher burden than other industries and their financing channels are relatively limited," he said.
Aluminum futures on the Shanghai Futures Exchange reached their highest price in almost six years this month, while rebar jumped to a more than four-year high as investors bet China's production curbs, coupled with strong demand, will support prices into the second half.
"Overall, the credit risk of leading companies in overcapacity industries has declined," said Zhang. "But they won't be worth investing in without some liquidity premium for protection."
— With assistance by Judy Chen, Martin Ritchie, Winnie Zhu, and Jing Yang
Before it's here, it's on the Bloomberg Terminal.
LEARN MORE