Jurassic Park Spurs U.K. Game Maker Backed by Tencent to Record
By and
Jurassic World Evolution due for release in summer 2018

Frontier in 'early stages' of fourth and fifth franchises: CEO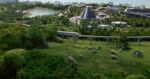 Shares of Frontier Developments Plc soared to the highest on record after the British video-game maker backed by Tencent Holdings Ltd. said it's developing the latest game based on the Jurassic Park franchise.
Frontier will release Jurassic World Evolution for PC, PlayStation 4 and Xbox One consoles in the summer of 2018, the Cambridge, U.K.-based company said in a statement on Monday. The stock climbed as much as 19 percent, helping the shares to almost triple in value since the start of the year.
The franchise could double Frontier's revenue by 2019, said Liberum analyst Andrew Bryant. Frontier will likely benefit from marketing spending by Comcast Corp.'s Universal Pictures, whose Jurassic World: Fallen Kingdom movie is due for U.S. release in June next year, he said.
"It's clearly very exciting," Bryant said. "As a franchise, Jurassic World is huge. What's important is that this title is tied with the film release, so Frontier benefits from the marketing spend by Universal."

"Frontier is now a business with three franchises, a strategy for five, and there's no reason they can't do more than that," the analyst said.
The game-maker is focused on building a portfolio of games that appeal to a variety of audiences, Chief Executive Officer David Braben said in an interview.
The three franchises the company has so far are all quite different to each other, he said, declining to comment on details of the next franchises. Game genres "that have been successful in the past provide a good opportunity" for Frontier, he said.
Frontier is in "early stages" of its planned fourth and fifth game franchises, and is hoping to announce the next one in 2019, Braben said. The company has historically announced a new franchise every two years and is "looking to accelerate that" to one a year, the CEO said.
He declined to comment on the anticipated revenue contribution from Jurassic World but said Frontier is "comfortable" with current analyst guidance.
The new game will allow users to create and manage their own Jurassic World parks, in which dinosaurs rampage after being brought back into existence by scientists, according to a trailer released on Twitter on Sunday.
Frontier shares have surged more than 180 percent in 2017. The company said in February it had licensed the rights to develop a video game franchise from a "major Hollywood studio." Tencent, China's largest internet media company, took a 17.7 million-pound ($23 million) stake in July.
Before it's here, it's on the Bloomberg Terminal.
LEARN MORE