Herbalife Squeezes Ackman Short With New Buyback, Icahn Deal
By and
Supplements company says it ended talks to be taken private

Icahn agrees to limit stake unless he tries to buy company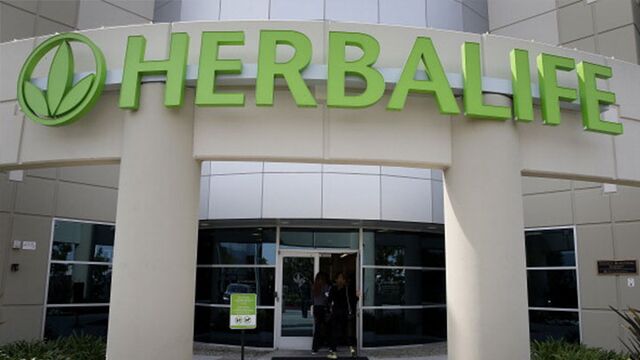 The battle between billionaire investors Carl Icahn and Bill Ackman over the future of Herbalife Ltd. just got turned up a notch.
The nutritional-supplements company disclosed a barrage of news Monday that sent its stock surging, including now-dead talks to go private, a new share buyback plan and a pact with its biggest investor, Icahn. The statement dealt a quick blow to Ackman and others that have bet against Herbalife's stock, while handing a paper profit to Icahn.
Months-long discussions with a "prospective financial investor" ended on Aug. 16 without a deal, the Los Angeles-based company said. Instead, Herbalife is offering to buy back as much as $600 million of stock and promising investors who tender their shares an additional payment if the company is acquired in a private transaction within two years.
In the meantime, Icahn has agreed to keep his stake below 50 percent unless he makes a move to buy the company outright, Herbalife said. He owns about 24 percent of shares outstanding, according to data compiled by Bloomberg, and has five representatives on the company's 13-member board as the result of a previous agreement.
Gadfly: Why Herbalife's news isn't all good, even though you wouldn't know it

The shares rose as much as 12 percent to $69.39 in New York, further squeezing Ackman, who has repeatedly called Herbalife's business model a pyramid scheme since he went public with a $1 billion short bet in December 2012. The company, which has a market value of about $6.5 billion, has rejected Ackman's claims.
Icahn, 81, has spent years sparring over Herbalife with Ackman since taking the other side of the bet in 2013. He's defended the company's multilevel-marketing model and publicly assailed Ackman -- on stages, television, in documentaries and online -- since an initial CNBC phone-in fight between the two billionaires.
Last September, Icahn said he asked the U.S. Federal Trade Commission for permission to buy as much as 50 percent of the company. He said at the time that Herbalife might be better off as a private company and that he would consider a tender offer himself.
Herbalife held talks with one private equity firm about a potential deal since November last year, according to a person familiar. While those talks ended this month, they could resume, the person said, asking not to be identified because the discussions were private.
While Herbalife's shares are up about 84 percent since the day before Ackman revealed his short position, it hasn't been plain sailing for the company, which sells weight-management shakes and energy drinks both to consumers and new distributors. Shares took a hit this month over concerns that Chinese regulators will crack down on marketing practices that could affect Herbalife.
Herbalife will pay $60 to $68 per share in the new offer, which is scheduled to run through Sept. 19. The company has the option to cancel or increase the tender if shares rise above $68.15 -- more than 10 percent from their closing price on Aug. 18 -- before the offer expires, according to a separate filing. The stock rose above that level Monday.
A representative for Ackman's Pershing Square Capital Management declined to comment. Icahn didn't immediately respond to requests for comment.
FTC Settlement
The moves may ease shareholders' concerns as Herbalife makes changes imposed by the FTC that forced it to cut its forecasts for sales and volume last quarter. Herbalife agreed in July 2016 to pay $200 million and make sweeping changes to its business to settle U.S. claims that the company deceived consumers with get-rich-quick promises.
Herbalife increased its buyback program to $1.5 billion in February and launched a $1 billion convertible bond to fund the repurchases. As of July 31, it had only used $299 million, according to a filing. The company cited trading prices in July, when the stock hit $74, as a reason for considering a tender.
The goal of buying back stock might be elusive because of the limit on the shares, said Tim Ramey, an analyst for Pivotal Research Group who has remained bullish on the company throughout the FTC ordeal.
"It's hard to say how this plays out," Ramey said. "Not sure it plays out with any stock being retired."
Icahn and the company's board and executives won't sell their shares as part of the offer, according to the statement. Herbalife will use part of the $1.3 billion in debt it raised in February to pay for the shares, the filing shows.
The offer "shows the company has confidence in its operating position and strategy," Ramey said, adding that Icahn's representatives on the board must also be supportive of the plans.
Before it's here, it's on the Bloomberg Terminal.
LEARN MORE