Golden Volatility Adds to Allure of High-Convex Defensive Hedges
By
Low rates volatility has cheapening effect on gold optionality

Carry is still expensive given depressed realized volatility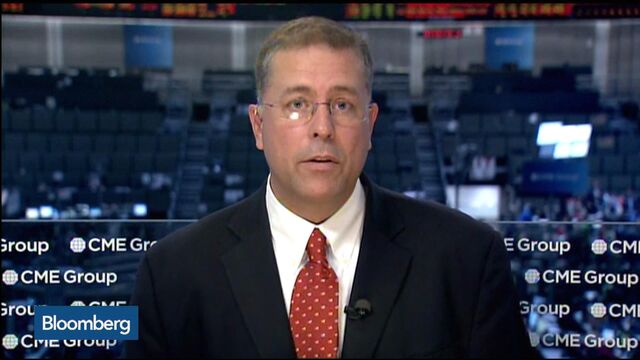 Risk-off option structures on gold that have low premiums and high convexity exposure may be attractive to hedge a full-blown crisis from either geopolitical risks or White House turmoil.
Even amid heightened U.S. political risks, ongoing tension with North Korea and the collision of budget and debt-ceiling deadlines in the autumn, gold's implied volatility is trading at relatively low levels. The decline in volatility for U.S. real rates is an important factor in this: investors typically measure the relative attractiveness of holding the metal -- a non-interest bearing asset -- against those that generate yield. As interest rates increase, the opportunity cost of holding gold rises.

With monetary policy normalization a headwind for gold, the binary nature of North Korea and U.S. political risks may see low-cost, high-convex option structures gain interest. With at-the-money (ATM) options expensive to carry given depressed realized volatility, low-delta out-of-the-money (OTM) call options or one-touch structures may appeal because they incur little cost if implied volatilities move lower on any de-escalation of risk.
The GLD ETF one-month implied/realized volatility ratio at 1.2 highlights the expensive carry of holding ATM options.

Game theory suggests that the probability of a conflict is low, given positive diplomatic outcome is best for both sides. Though the risk of North Korea becoming able to launch a nuclear intercontinental ballistic missile is making the matter increasingly more urgent for the U.S.
A regime shift in volatility will be best captured with long-convexity exposure combined with tactical shorts, rather than tail-risk strategies betting on mean-reverting volatility spikes.
Popular Low-Volatility Game Returning 4,000% May End in Tears
Short-dated implied volatilities are trading below their 1-year medians with 50-delta 3-month GLD ETF at 11.4%, 16th percentile.
GLD 1-month one-touch option with barrier of 135 has a payoff about 26:1. However, the upside is capped, while the 130 call (~6% OTM) costs just 23c and 135 call (~10% OTM) at 9c, and provide a highly convex payout profile compared with an ATM call.
NOTE: Tanvir Sandhu is an interest-rate and derivatives strategist who writes for Bloomberg. The observations he makes are his own and are not intended as investment advice.
Before it's here, it's on the Bloomberg Terminal.
LEARN MORE