Chile Court Paves Way for Legalization of Abortion in Some Cases
By
Chile was one of few countries that penalized all abortions

Bill ready to be signed into law by President Bachelet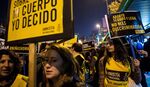 Chile's Constitutional Court approved a bill legalizing abortion in some cases following two years of heated debate in Congress, overturning a complete ban put in place by former dictator Augusto Pinochet.
The court voted six to four to allow abortions in the case of rape, fetal inviability and if the mother's life is at risk, rejecting an appeal by opposition lawmakers. The bill is now ready to be signed into law by President Michelle Bachelet, according to a tweet by the Health Ministry.
In one of the last acts of his dictatorship in 1989, Pinochet had banned abortion, leaving Chile as one of only nine countries that criminalized the procedure in all cases. The bill approved today was opposed by the church, members of the right-wing opposition and some lawmakers within Bachelet's ruling alliance.
Bachelet had vowed to pass this bill before her four-year term ends in March, even as her popularity fell and her government struggled to approve education, health-care and pension reforms.
Before it's here, it's on the Bloomberg Terminal.
LEARN MORE