What Ails Central Banks May Cure Russia's Inflation Angst
By
Below-target inflation to push down expectations, Morozov says

Bank of Russia's top forecaster says price slowdown near limit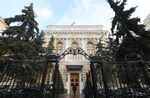 While central bankers from the U.S. to Europe see inflation undershooting their targets as a headache for monetary policy, it may be a boon for the Bank of Russia.
A surprise deceleration in consumer prices below 4 percent in July is set to cool off inflation expectations, which Russia's central bank calls a "pillar" of its rate decisions, according to Alexander Morozov, head of its research and forecasting department. As long as people's outlook isn't anchored, monetary policy will have to "react stronger" to deviations in price growth above the target, he said in an interview in Moscow.

"The experience of other countries shows that if inflation falls slightly below the targeted level, it has a significant positive effect on inflation expectations: they begin to adjust faster toward the goal," he said. "Inflation expectations should now start to fall again, and I suppose they will accelerate their decline."
The Bank of Russia has made far less headway in talking down expectations even as its "moderately tight" stance pushed price growth near a record low. A surge in food costs sent inflation expectations to more than double the central bank's target for price growth last month, underscoring the challenge in resuming rate cuts after a pause in July.
With three meetings left this year, policy makers are set to bring their benchmark to 8.25 percent by end-2017 from the current 9 percent, according to the median forecast in a Bloomberg survey. The central bank said in July that there was still "room" for easing in the second half of the year.
Although Morozov doesn't cast a vote for rate decisions and his department's research includes a disclaimer that its views may not coincide with the central bank's official position, he suggested that below-target inflation presents less of a test for policy makers than when prices breach the aim.
'React Stronger'
"The problem is that as long as inflation expectations aren't anchored, monetary policy unfortunately has to react stronger to a deviation in inflation -- first and foremost to its deviation above the goal," he said.
The central bank's response will also depend on the reasons inflation is straying from the target, which components of the price index are affected, and the impact on expectations, according to Morozov.
"If a deviation is seen in the most stable components of inflation" -- however slight -- "then for me it's cause for concern," he said. "But if these are one-time factors, and we know that their effect will be exhausted, then I will tend to treat an even bigger deviation calmly."
Following what a Russian central banker called an inflationary "shock" in June, when the annual index jumped to 4.4 percent, price growth eased to 3.9 percent last month. On a weekly basis, inflation has been below zero since the end of July. The effect of recent ruble depreciation will become clearer in September, Morozov said.
"It's likely that the process of deceleration in annual inflation is close to its limit," he said.
Long Memories
Still haunted by past crises, Russians are having a hard time putting their trust in the central bank. A survey conducted for the Bank of Russia showed that 46 percent of respondents in July didn't believe inflation will end the year at 4 percent.
It may take two to three years to anchor inflation expectations, which doesn't mean their median has to be exactly at 4 percent, according to Morozov. One goal of research is to determine the level of expectations needed for actual price growth to stabilize at 4 percent, he said.
"What's important is to ensure the consistency of monetary policy and avoid rates bouncing in response to a temporary change in inflation," he said. "It's better to move slowly but consistently down, then to hop up and down."
Before it's here, it's on the Bloomberg Terminal.
LEARN MORE