Balance of Power: Who's Left to Save Trump?
By and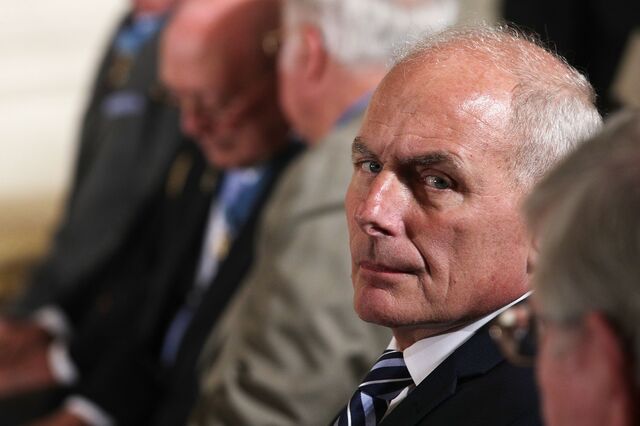 Donald Trump returns to the Oval Office today at a moment of peril for his presidency.
He's already alienated most of the Republican establishment that he needs to enact his agenda. On Friday, he ousted the rumpled avatar of the grassroots conservatives that make up the other half of the party, Steve Bannon.
Presidents in trouble go prime-time, so tonight Trump will give a televised address about Afghanistan. The betting is that he'll send in more troops, an idea both he and Bannon hate, but Bannon isn't the one who gets blamed if the country reverts to pre-Sept. 11 lawlessness.
The irony is that Trump's saviors, if he has any at this late hour, would be the very "grown-ups" he's known to disdain from time to time, like national security adviser H.R. McMaster and Secretary of State Rex Tillerson, who has seen Trump repeatedly override him.
They won't let him do as he pleases. Now he needs that discipline, and he's running out of time to get it right. Whether he falls in line will determine if his presidency smashes against the rocks or manages to find smooth waters, for the first time since Inauguration Day.

Sign up to receive the Balance of Power newsletter in your inbox, and follow Bloomberg Politics on Twitter and Facebook for more.
Global Headlines
Weakness in the heartland | Just how much damage Trump's done to his core support was on display in a new series of opinion polls. Voter approval in Michigan, Pennsylvania and Wisconsin — three states that helped him carry the presidency — plunged to 34 to 36 percent. More than six in 10 voters said his conduct made them feel embarrassed. 
The Mnuchin defense | Steven Mnuchin pushed back against a letter from 300 of his former Yale University classmates demanding he resign. The treasury secretary defended Trump, saying he "in no way, shape or form," believes neo-Nazis are the same as peaceful protesters. Meanwhile, ex-President Barack Obama's former homeland security chief said people like Defense Secretary Jim Mattis and Chief of Staff John Kelly had to stay to help "right the ship."
North Korea on notice | South Korean President Moon Jae-in said today that North Korea shouldn't use his country's annual military exercises with the U.S. as an excuse for more provocations. The drills, which run through Aug. 31, come as tensions still simmer over Kim Jong Un's missile tests and Trump's warning that he'll unleash "fire and fury" to stop North Korea's threats.
Another U.S. warship collision | Rescuers from Singapore and Malaysia were searching for 10 American sailors after a crash involving the USS John S. McCain and an oil tanker near the two countries' border. The second collision involving a U.S. warship in Asia in two months is raising questions about shortages of manpower and resources in the navy. 
Holiday's over for Europe | European leaders coming back from summer break have more than Brexit and revamping the Euro zone to deal with. The battle between EU regulators and the Polish government over its plans to weaken the judiciary's independence underscores a new fault line between east and west. Viktoria Dendrinou and Ian Wishart look at hot topics in the months ahead.
Merkel and the Greens | Looking to expand its coalition options, Chancellor Angela Merkel's party has signaled an openness to ruling with the Greens after next month's elections. The faction has shown pragmatism while running the state of Baden-Wuerttemberg — home to Mercedes and Porsche —  backing off of a partial diesel ban after pushback from industry and commuters. Here's an interactive piece on potential coalition tie-ups.
And finally… Big Ben, which tolled through two world wars and countless other British milestones over most of the past 157 years, is falling silent. The London landmark will chime at midday today for the last time before undergoing a four-year restoration effort. For many Brits still reeling from Brexit, it's an emotional moment. The media has obsessed over the symbolism and even Prime Minister Theresa May has asked why it should take so long.

Before it's here, it's on the Bloomberg Terminal.
LEARN MORE