Five Things You Need to Know to Start Your Day
Get caught up on what's moving markets in Asia.
By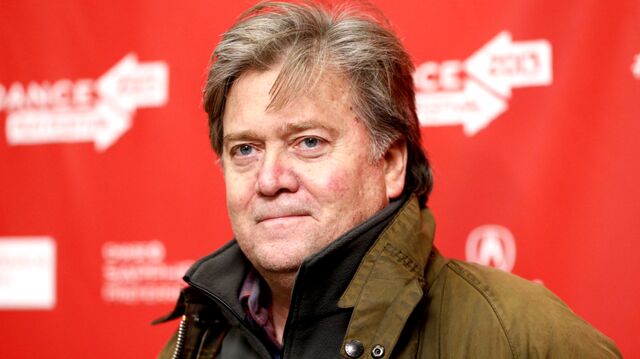 Want to receive this post in your inbox every morning? Sign up here.
Brent hits a 12-week high, Stephen Bannon out at the White House, and the Qatar crisis takes a curious turn. Here are some of the things people in markets are talking about.
ABannoned
Controversial White House chief strategist Stephen Bannon, U.S. President Donald Trump's primary link to nationalist elements within the Republican Party, was ousted from his position on Friday. He's now back at Breitbart News, where he has pledged to go "to war for Trump against his opponents." U.S. stocks rallied on the news, as the advisor's exit was seeing as reducing the likelihood that the world's largest economy pursued protectionist policies, but reversed those gains to close in the red.  The S&P 500 Index ended the week below its 50-day moving average for the first time since early November. Bannon's role within the White House had been marginalized after he failed to secure any major legislative victories for the president and he was viewed as the proximate cause for much of the infighting that's plagued the young administration. In addition, billionaire activist investor Carl Icahn quit as a special regulatory adviser to the president on Friday in order to avoid "partisan bickering" about his role, amid concerns about possible conflicts of interest. Sebastian Gorka, one of Bannon's allies and a counterterrorism aide, may be the next official pushed out of the White House. Meanwhile, Steven Mnuchin has elected to stay on as Treasury Secretary despite being asked by his former Yale classmates to resign.
Let's Get Physical
Oil also rose on the news of Bannon's exit — but it didn't come back down. Brent futures ended the week at their highest level in nearly three months. Demand for physical barrels of crude has remained robust beyond its traditional seasonal peak, a positive development for prices. Data released on Friday showed the number of active oil rigs in the U.S. declined by five. Libya's re-emergence as an oil-producing powerhouse may temper these tailwinds somewhat, however, with Shell loading its first shipment of crude from the OPEC nation in five years.
The Sheikh and the Saudis
A little-known Qatari sheikh — Abdullah Bin Ali Al-Thani, who is descended from the kingdom's founder — was welcomed warmly by Saudi Arabia's Crown Prince Mohammed bin Salman in a visit that could signal anything from renewed diplomatic efforts to resolve the crisis to an attempt by Saudi Arabia to undermine popular support for Qatar's current ruler. Mediation to end the dispute would be a welcome development, with economists now expecting Qatar to report its slowest growth rate since in more than two decades this year thanks to the Saudi-led boycott's deleterious effects on trade and confidence. Qatar's leaders are reportedly telling banks to find financing partners overseas rather than rely on government funding, with domestic financial institutions planning on tapping Asian investors to boost liquidity. Data from the nation's central bank showed that foreign deposits at its banks fell by almost 8 percent on a monthly basis in July.
Let's Talk Trade
It's a huge week for the leaders of Europe's biggest economies. U.K. Prime Minister Theresa May's government is slated to release a plethora of papers in the coming days in a bid to steer Brexit negotiations with the European Union away from the terms of the divorce and towards the trade between the two parties once the split is final. E.U. leaders have refused to discuss the future relationship until the details on residency rights, how much the U.K. owes, and the Irish border have been adequately addressed. The British pound may be vulnerable depending on how well — or even whether — opposing negotiators receive the U.K.'s position papers. German Chancellor Angela Merkel, meanwhile, heads into the home stretch of an election campaign in which she's been grilled over her government's handling of the diesel emissions scandal and the refugee crisis. Merkel, who has pledged to serve her entire term if re-elected, defended her open-borders policy when anti-immigration protestors disrupted a campaign event last week.
Coming Up...
Thailand's second-quarter GDP growth, due out at 11:30 a.m. Tokyo time, is forecast to pick up to 3.4 percent year-on-year  from 3.3 percent in its previous reading. The nation's central bank recently warned the strong bond inflows that have buoyed the baht this year may end up crimping exports, which make up roughly two-thirds of Thailand's economy. In Japan, the All Industry Activity Index is projected to bounce back with a 0.4 percent monthly increase in June on the heels of a 0.9 percent decline. Preliminary trade data from South Korea for August are also on the docket, with data released early Monday showing producer prices up 3 percent year-on-year in July. Data on Chinese foreign direct investment for July may also be released.
What we've been reading
This is what caught our eye over the last 24 hours:
Before it's here, it's on the Bloomberg Terminal.
LEARN MORE