All Blacks Player of the 20th Century Colin Meads Dies at 81
By
New Zealand rugby icon passes away after cancer battle

'He represented what it means to be a New Zealander,' PM says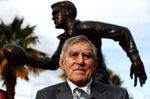 Colin Meads, the New Zealand sheep farmer whose 14-year rugby career with the All Blacks earned him hero status and recognition as the nation's greatest rugby player of the 20th century, has died. He was 81.
Meads passed away on Sunday after a battle with pancreatic cancer, Prime Minister Bill English confirmed in an emailed statement. "This is a sad day for New Zealand rugby and for New Zealand," English said. "He represented what it means to be a New Zealander."
Nicknamed "Pinetree" for his towering presence on the field, Meads was the epitome of the tough, must-win approach that has made New Zealand the most successful rugby nation in history. He represented his country 133 times from 1957 to 1971, including in 55 elite test matches, and was widely considered to be one of the greatest players ever. In 1999, the New Zealand Rugby Football Union named him player of the century.
"As a sporting legend, Meads is New Zealand's equivalent of Australia's Sir Donald Bradman or the United States of America's Babe Ruth," a biography of Meads on the All Blacks website states. "Throughout the 1960s, a golden era in All Black rugby, Meads became the personification of the New Zealand style of the game. He was rugged and uncompromising and as the All Black prototype he quickly became a genuine folk hero."
Record Tally
Meads held the record for All Black appearances for more than 40 years, his 133 games finally overtaken in 2014 by Richie McCaw, the only other rugby player to approach Meads' iconic status in the country of 4.7 million.
After making his debut for the All Blacks at age 20, Meads was an almost automatic selection during his international career. His regular position was "lock forward" in jersey No. 5, whose job is to outmuscle the opposition and win the ball. His brother Stan also played 30 times for the All Blacks.
Feted as the best rugby player of the amateur era, which ended in 1995, Meads was "the most famous forward in world rugby throughout the 1960s," according to the International Rugby Hall of Fame. He received a knighthood in 2009.
His strength and high threshold for pain became legendary. In a 2002 article for the U.K.'s Guardian newspaper, Donald McRae recounted the story of how Meads broke his arm on a tour of South Africa in 1970 while playing against Eastern Transvaal, "a team of flat-faced Afrikaners who compensated for their lack of skill with raw brutality."
'Arm Dangling'
"Meads emerged from a particularly vicious ruck with his arm dangling horribly," McRae wrote. "It was an obvious fracture, and yet Meads completed the match. When the doctor cut away his shirt and confirmed the break, Meads muttered, 'At least we won the bloody game.'"
Meads, who captained the All Blacks in four tests, also earned a reputation as a so-called enforcer, meaning he sometimes bordered on violent play to intimidate the opposition. In "Meads," a 2002 biography by Brian Turner, the All Black great said he always considered himself a fair player. Even so, playing in an era before television camerawork exposed on-field "skulduggery," "you had to do something about it to stop them winning the ball illegally; if you didn't, then you came second," he said.
In Australia, he is notorious for ending the international career of Wallabies captain Ken Catchpole in a 1968 test match. While Catchpole was lying under a pile of players, Meads wrenched his outstretched leg in a bid to drag him off the ball. Catchpole's hamstring was torn from the bone.
"Of course I felt sorry for Catchy, but I never felt guilty about it," Meads said in Turner's book. "I honestly didn't know his other leg was pinned."
Early Life
Colin Earl Meads was born on June 3, 1936, in Cambridge, a small town in the Waikato region on New Zealand's North Island. The son of Vere and Ida Meads, he grew up on a sheep farm and attended Te Kuiti High School, in the town of Te Kuiti, about 70 kilometers south of his birthplace.
Meads credited his rural lifestyle for his strength and fitness, telling the U.K's Telegraph newspaper in 2005 he worked so hard on the farm that he looked forward to the rugby season "for a bit of rest."
Throughout his career, Meads only played for one provincial team, his local club Waitete, in Te Kuiti. Its No. 5 jersey was retired in his honor and the local lock wears No. 55 instead.
After his playing days, he was a national selector in the mid-1980s before being fired for agreeing to coach a "rebel tour" by the New Zealand Cavaliers to South Africa, which was boycotted by sporting teams during the apartheid era.
World Cup
Meads opposed the boycott, arguing that politics and sport don't mix. A 1981 South African rugby tour of New Zealand had sparked nationwide protests and clashes with police, dividing New Zealand society and leading to the boycott.
Meads was involved with the All Blacks again as a team manager in 1994 and 1995, when New Zealand narrowly lost to South Africa in the final of the World Cup, attended by South African President Nelson Mandela.
"The thoughts of the entire All Blacks team are with Sir Colin's family at this incredibly sad time," All Blacks coach Steve Hansen said in a statement. "His achievements in the black jersey are part of the All Blacks legacy and his loss will be felt by rugby people all over the world."
Meads' funeral will be held in Te Kuiti next Monday and is expected to draw dignitaries and thousands of well-wishers from around the country. A nine-foot tall statue of him, running with rugby ball in hand, was unveiled in the town two months ago.
Meads is survived by wife Verna, five children, 14 grandchildren and seven great grandchildren. One of his sons, Glynn, played provincial rugby and was nicknamed "Pinecone."
— With assistance by Tracy Withers
Before it's here, it's on the Bloomberg Terminal.
LEARN MORE