Mnuchin Defends Decision to Stay as Trump Sees Healing Ahead
By and
Treasury chief had been asked to resign by Yale classmates

Former DHS chief says officials must put 'country first'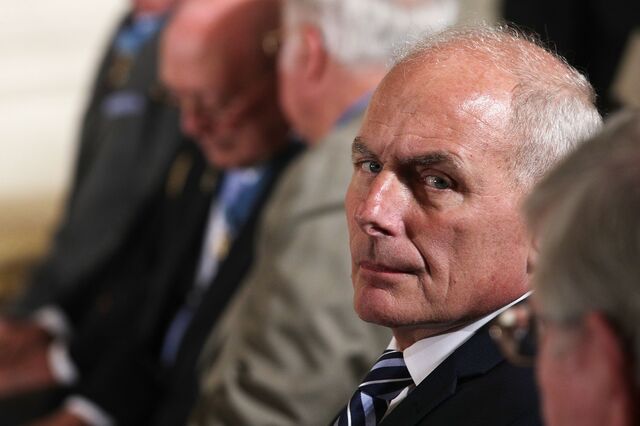 Treasury Secretary Steven Mnuchin pushed back against demands made by his former classmates at Yale University that he resign from Donald Trump's cabinet, and on Saturday defended the president's response to last weekend's deadly protests in Charlottesville, Virginia.

The former head of U.S. homeland security, meanwhile, said that top Trump administration officials such as Defense Secretary Jim Mattis should "absolutely not" quit, if they were considering it, since they're needed to "right the ship."
Trump has taken blistering criticism from lawmakers, business leaders and others over statements he made following violence at a protest in Charlottesville, Virginia, on Aug. 12 that left one counter protester dead. He cast similar blame on the neo-Nazis and white nationalists who organized the events and those who protested against it.
Some of Trump's comments, criticizing "alt-left" protesters as "very, very violent," came Aug. 15 with Mnuchin standing by the president's side in the lobby of Trump Tower in New York. The raucous event had been expected to focus on the administration's infrastructure proposals.
Mnuchin, 54, was urged to quit his Treasury post in a letter from more than 300 fellow graduates of Yale University's Class of 1985, who said it was his "moral obligation" to step down in protest for Trump's "support of Nazism and white supremacy."
'Peaceful and Lawful'
But in a statement late Saturday, Mnuchin, who is Jewish, said he understands "the long history of violence and hatred against the Jews (and other minorities), and circumstances that give rise to these sentiments."
"I feel compelled to let you know that the president in no way, shape or form, believes that neo-Nazi and other hate groups who endorse violence are equivalent to groups that demonstrate in peaceful and lawful ways," the former banker and film producer said in the statement.
Wall Street was rattled last week by talk that another top Jewish member of the administration, White House economic adviser Gary Cohn, was upset by Trump's remarks and thinking about quitting. Cohn, who also flanked the president at the Trump Tower event, will remain in his position, a White House official said on Thursday.
Jeh Johnson, President Barack Obama's Secretary of Homeland Security, said if officials like Mattis or White House Chief of Staff John Kelly came to him and said they were thinking of resigning, he'd tell them they "absolutely" must stay.
'Country First'
"It's country first," Johnson said on ABC's "This Week" on Sunday. The U.S. needs people such as Kelly, Mattis and National Security Adviser H.R. McMaster "to right the ship," he said.
While there are "some serious issues" with Trump's character, it isn't time yet to talk about using the 25th Amendment to remove him, said Representative Adam Schiff of California, the top Democrat on the House Intelligence Committee. That statute allows a president's own Cabinet to begin the process of removing him or her from office.
"There are some serious issues with our president that aren't going to go away, aren't going to get better and, indeed, with the pressures of the job may very well get worse," Schiff said on CNN's "State of the Union" on Sunday.
People in Middle America see criticism of Trump as a "manufactured" attempt to dislodge the president from the White House, former Arkansas governor and former presidential candidate Mike Huckabee said on Fox News Channel's "Sunday Morning Futures."
Key States
Still, Trump's job approval rating is below 40 percent in three key Midwestern states that helped propel him to the White House, and voters in those states are leaning toward Democrats for the 2018 midterms, according to new NBC News/Marist polls released on Sunday.
More than six-in-ten voters surveyed in each state said Trump's conduct as president made them feel embarrassed, while 25 to 28 percent said it made them feel proud, NBC said.
A week after the protests in Charlottesville turned deadly, about 40,000 people, many chanting anti-Nazi slogans, descended on downtown Boston on Saturday, overwhelming a small group of conservatives gathered for a "free speech rally."
Trump extended an olive branch to demonstrators, saying that protests can be cathartic as thousands swarmed into downtown Boston on Saturday to speak out against white nationalists.
"Our great country has been divided for decades. Sometimes you need protest in order to heal, & we will heal, & be stronger than ever before!" the president said in a pair of tweets. "I want to applaud the many protesters in Boston who are speaking out against bigotry and hate. Our country will soon come together as one!"
An hour before lauding Saturday's protesters, Trump, who's spending the weekend at his Bedminster, New Jersey, golf resort, was less sympathetic. "Looks like many anti-police agitators in Boston. Police are looking tough and smart!" He praised the effort of law enforcement officers and Boston Mayor Marty Walsh.
Boston's events were mostly peaceful, although late Saturday, the police tweeted that some protesters were throwing bottles, urine and rocks at them. About 33 arrests were made, local media reported.
— With assistance by Ros Krasny, Mark Niquette, and Chris Strohm
Before it's here, it's on the Bloomberg Terminal.
LEARN MORE