Spain Maintains Terrorism Alert Level After Police Break Up Group That Staged Attacks
By
Driver of van continues to be hunted by police after attack

Interior Minister Juan Ignacio Zoido speaks to press in Madrid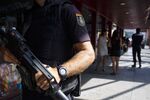 Spain kept the terrorist alert unchanged at the second-highest level after police broke up the group that carried out two attacks this week that killed 14 civilians and injured scores of others.
Government experts found no "imminent terrorism attack threat" and recommended maintaining the alert at level 4, the second-highest in the five-step scale, Interior Minister Juan Ignacio Zoido said Saturday at a press conference. Police broke up the gang that staged the attacks in the Catalan cities of Barcelona and Cambrils, Zoido said after a meeting of the terrorism threat assessment group.
Police will reinforce its presence in certain key parts of the country, including crowded areas and popular tourist spots, he said. Spain has been at level 4 since mid-2015, following attacks in France.

The terrorists had planned a devastating assault with explosives and may have rammed pedestrians with vehicles after their initial plan failed, Catalan police chief Josep Lluis Trapero said Friday. Five suspected terrorists were killed by cops and four have been arrested. A 12th suspect, believed to be the driver of the van that rammed pedestrians in Barcelona's crowded Las Ramblas area, remained at large on Saturday.
A large explosion in the early hours of Thursday brought down a building in the town of Alcanar, about 200 kilometers (120 miles) from Barcelona, where police think a group of terrorists had been plotting an attack for some time, Trapero told reporters. Deprived of bomb-making material, they then carried out the twin strikes "in a more rudimentary way."
"The explosion in Alcanar stopped larger attacks from happening because they no longer had some of the material they needed," Trapero said.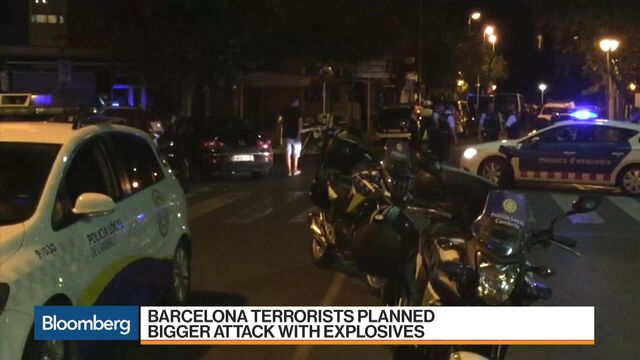 Before it's here, it's on the Bloomberg Terminal.
LEARN MORE