News
Terror Attacks Expose Spanish Rift Over Tackling Jihadists
Catalonia is already looking like an independent state when it comes to its policing.
By and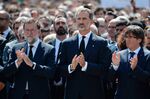 Spain's deadliest terrorist attacks in more than a decade showed how a tourist hotspot can also be a hub for Islamic militants. They also exposed the political division that risks obstructing the region's fight against the jihadists.
The day after 13 people were mowed down by a van in Barcelona and another person killed in a resort town down the coast, a rift appeared between Catalonia's regional administration and the Spanish government over policing and access to intelligence.
Catalan President Carles Puigdemont said the atrocity, claimed by Islamic State, proved the region's police force should have more officers and its own representation on international security bodies like Interpol. For its part, the national government advised cities across Spain to install protective bollards in crowded areas in December following attacks in Nice and Berlin. Las Ramblas, one of the most crowded areas in Barcelona, didn't have such protection.
"When we ask for more agents, even if the Spanish government denies them, we do it for a reason," Puigdemont said in a statement. "When we demand that they be part of the appropriate bodies at an international level, even if the Spanish government is against that, it is because we believe it is a good way to fight against terrorism."

In the background is an acrimonious tussle between the Catalans and the central government in Madrid in recent years over the right to hold a referendum on independence from Spain. The latest cooling of relations comes from Catalan plans for a vote on Oct. 1 in defiance of Prime Minister Mariano Rajoy and the Constitutional Court. Puigdemont said within hours of the Barcelona carnage that the vote will go ahead.
As well as the deaths, about 100 were injured when the van barged into a pedestrian area of Las Ramblas on an afternoon at the height of the summer tourist season.
The subsequent police operation led to four arrests and five suspects being shot dead later that night in Cambrils 120 kilometers (75 miles) southwest as they also drove at passersby. One pedestrian was killed and six wounded. The Barcelona driver was among the men shot by police in Cambrils, state broadcaster TVE reported later on Friday.
"You can say already that it has become a politicized issue," said Florentino Portero, a professor of international security at Francisco Vitoria University in Madrid. There is a clear "divorce of the two administrations, which of course has an impact on the security issues," he said.
With Catalonia's distinct traditions and language, a majority of the regional lawmakers supports the planned referendum, though Rajoy is refusing to engage in talks about the terms. The prime minister has submitted a series of lawsuits to block any route to secession. He's also tightened controls over Catalonia's finances and issued warnings to local officials about the legal consequences of getting involved.
Standing Together
That said, Rajoy and Puigdemont showed a united front on Friday, sharing a platform at a press conference in Barcelona. Puigdemont thanked Rajoy for his "willingness" to meet and work with the Catalan government.
Spain's government agreed last month to integrate the Catalan regional police, the Mossos d'Esquadra, into the national body in charge of the assessing terrorist threats as well as in the anti-terror and organized crime intelligence center. They were long-term requests from the regional government in Barcelona.
The central government is still looking at whether to allow Mossos d'Esquadra to have a seat in international agencies such as Europol, Interior Minister Juan Ignacio Zoido said July 10.
Spain, and specifically Catalonia, has long been known to house groups linked to jihad and terrorism groups. Mohamed Atta, one the terrorists who participated in the Sept. 11, 2001, attacks in New York, had repeatedly traveled to the Catalan region of Tarragona.
Security forces have arrested 77 people in Catalonia on suspicion of jihadist terrorism links since 2012, 30 percent of the national total and more than in any other Spanish region. Geographically, it's in the northeast with transport links to cities in France's south.
"While a mosso or a civil guard is equally worried about jihad, the situation at the political level isn't good," said Portero, the academic in Madrid.
Before it's here, it's on the Bloomberg Terminal.
LEARN MORE