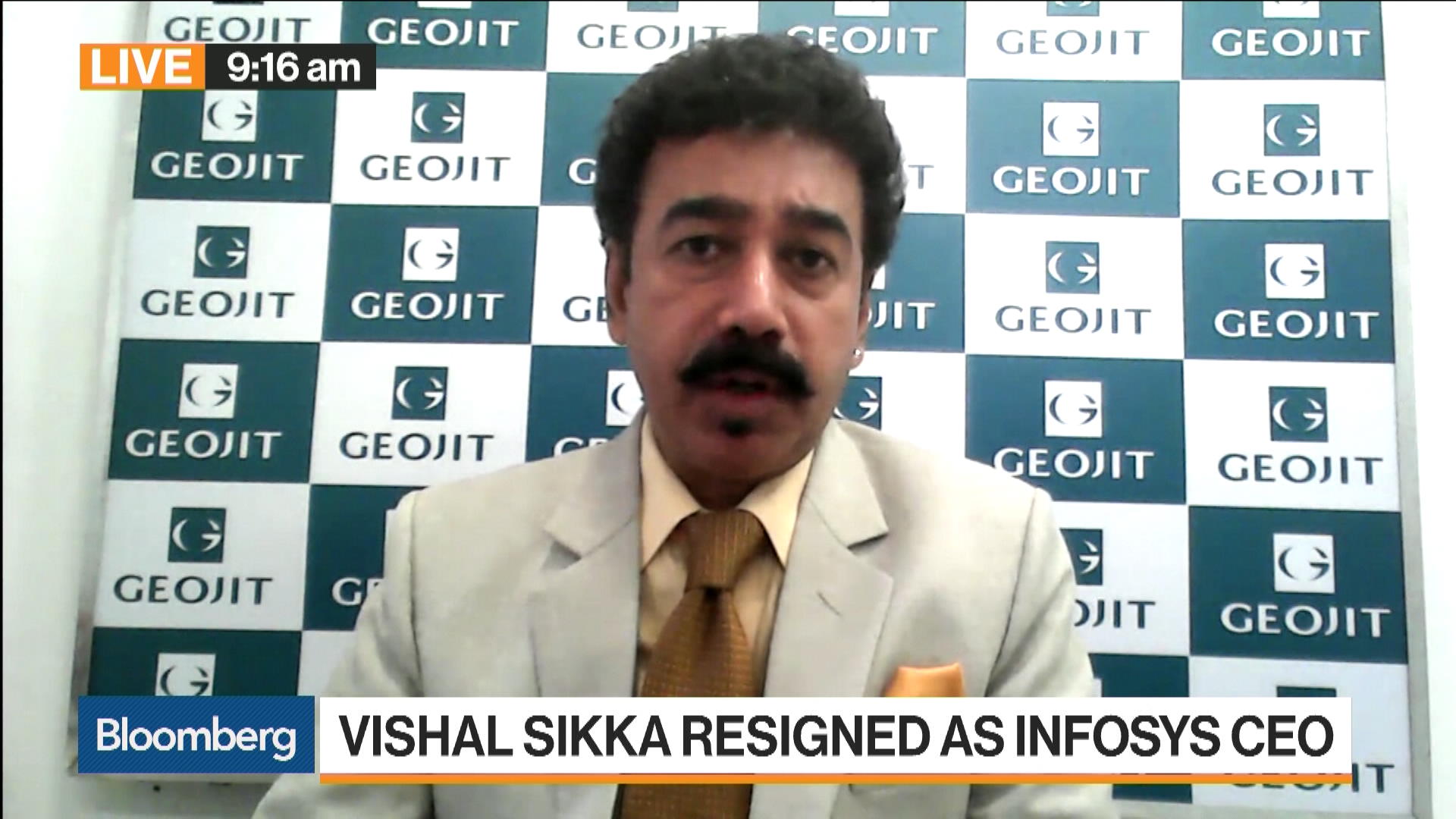 Infosys Ltd. could do with some support. A spat between the board of the Indian computer services giant and its founders -- led by ex-chairman NR Narayana Murthy -- prompted Vishal Sikka to resign as chief executive officer. It's the latest example of India's venerable business titans meddling on their former patches. And it's the latest example of how markets view such interference: Infosys shares tumbled as much as 13 percent.
1. So this was unexpected?

Not exactly. Murthy and other Infosys co-founders have been sparring with the board for almost a year over corporate governance and executive pay. Murthy et al sent the board a letter questioning severance packages for two departing executives -- and Sikka's increased compensation. (His total package was $6.75 million for fiscal 2017). Even so, Sikka's resignation took many investors by surprise, as Infosys lost more than $3 billion in market value.
2. How did matters escalate?
Back in February, the clouds seemed to have cleared when Murthy, 70, called off his fight with the board, saying he was confident it would deal with his concerns. In fact, the storm never cleared. The latest (and final) salvo arrived early Aug. 18 when the Mint financial newspaper reported an email from Murthy citing independent directors as saying Sikka was more chief technology officer material than CEO material. Within hours, Sikka had gone.
3. What did Sikka say?
He wrote on his blog that he had decided to throw in the towel rather than grapple with unspecified distractions that had created "an untenable atmosphere." Sikka, 50, will stay on as executive vice chairman until a permanent replacement is found by the end of March. He added: "Life is too short to engage in battles of opinions in the public, these add no value, take critical time and focus away from the business, and indeed add more to the noise, to the eardrum buzz."
4. How long was Sikka top dog?
He took over in August 2014 as the first non-founder CEO of Infosys and was reappointed last year on a five-year contract. Previously, he oversaw product development as Chief Technology Officer at SAP AG, the largest maker of business-management software. With his Stanford University PhD in computer science, Sikka was brought in to reverse four straight years of narrowing profit margins and to reshape the business model. Instead of charging customers such as Goldman Sachs Group Inc. for time spent by technicians building and managing computer systems, Infosys set out to fashion automated software and tools that would detect and solve problems with less human intervention. Before Friday's plunge, the company's stock had gained about 21 percent over Sikka's tenure, outperforming its biggest rivals.

5. What is it with these founders of Indian companies?
They don't like to let go. Recall the shock coup at Tata Sons last year, when founding-family scion Ratan Tata unexpectedly removed his successor as chairman, Cyrus Mistry. Murthy co-founded Infosys with six other engineers in 1981, starting out with $250 in capital and reaping the demand for Indian tech know-how and low costs to forge a company whose value soared to more than $40 billion -- and became the first from India to list on Nasdaq. Since Murthy's two decades as CEO ended in 2002, four founders have taken turns at the helm. Murthy returned unexpectedly in 2013 before handing control to Sikka -- kind of. Indian founders aren't "very good" at relinquishing control of their companies and are unable to "cut the umbilical cords," Asian Markets Securities analyst Shradha Agrawal said.
6. Why did the shares tank?

Sikka's departure may have been expected by some, but not so soon. It leaves India's (and Asia's) No. 2 software services exporter scrambling to find a replacement at a time when the industry is struggling to transition to internet- and data-based computing. And, in common with its larger rival Tata Consultancy Services Ltd., Infosys faces the challenge of a U.S. administration that's making it harder to source the work visas required to serve key clients in its biggest market.
7. What happens next?

For now, Chief Operating Officer Pravin Rao becomes interim CEO. Analysts, speaking on a conference call after Sikka's announcement, questioned how Infosys would fill the role given the scale of the company's operations, the challenges facing the tech industry -- and the penchant for meddling by the founders. Sikka and the board made it clear they won't ask Murthy to play a formal role. Infosys has a large public float and insiders hold just under 13 percent, according to the BSE Ltd. website. The board, in a statement, said it "denounces the critics who have amplified and sought to further promote demonstrably false allegations which have harmed employee morale and contributed to the loss of the company's valued CEO."
The Reference Shelf
Before it's here, it's on the Bloomberg Terminal.
LEARN MORE