Twin Threats to South Korean Growth: Missiles and Property Rules
By
Kim Jong Un has ratched strategic tension to a new level

Home prices in Seoul present a big home-grown problem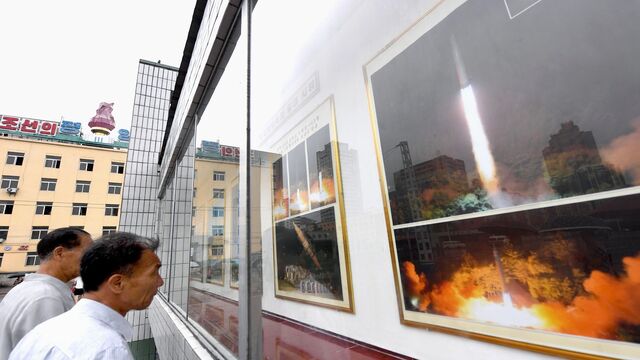 Decades of provocations from the regime in Pyongyang have conditioned South Koreans -- including economic forecasters -- to shrug off talk of war and carry on business as usual. Many have also grown accustomed to a housing market that just keeps rising.
Some analysts see things differently now and warn of increasing downside risks to economic projections for this year and next. KB Investment & Securities Co.'s Chang Jae-chul is paying extra attention to consumer and business sentiment for any signs of weakening while Kwon Young-sun at Nomura International Ltd. thinks new measures to prevent a property bubble could undermine vital construction investment.
"These tensions aren't a one-off thing. They'll be persistent, and I see a high possibility of economic sentiment deteriorating," said Chang, Seoul-based chief economist at KB, the brokerage arm of the nation's second-biggest banking group. "Rising financial market volatility could deliver an additional blow."
Nomura's Kwon, a former central bank economist who cites the property sector as a major worry, is among the most pessimistic forecasters for gross domestic product. He sees 2.7 percent this year and 2.3 percent in 2018, versus the government's estimates of 3.0 percent for both years.
"Construction investment will contribute little, or undermine South Korea's growth going forward," said Kwon, who is now based in Hong Kong. "The construction industry is sensitive to financial market conditions, and tighter conditions from stock and bond movements after North Korea's threats can make funding difficult and discourage construction activity."
Read more: U.S. says 'Game On' if Kim strikes Guam.
The ongoing strategic risk also means there will be no change to South Korea's deployment of the Thaad missile defense shield, which has provoked economic sanctions from Beijing, said Park Sang-hyun, an economist at HI Investment & Securities Co. in Seoul. This in turn means inbound tourist numbers will keep falling and sales of cars and cosmetics in China will continue to suffer, said Park.
It's important to note that most economists are concerned about the level of tensions and how long they go on, as opposed to an actual military clash. Many also see material risks to the outlook as fairly low.
The most likely scenario from the current tension is a "muddle-through," Natixis economists Alicia Garcia Herrero and Trinh Nguyen wrote in an Aug. 15 report. Ma Tieying from DBS Group Holdings Ltd. in Singapore said the impact looks largely set to remain limited to the financial markets.
"In the event of further and sustained escalation of tensions from the recent highs, North Korea-related risk can pose a non-trivial yet still mild headwind to confidence and growth," Woo Jae-joon, an economist for Bank of America Merrill Lynch in Hong Kong, wrote in a report.
Meanwhile, there are some signs that South Korea's housing market may be peaking, at least for now. The value of construction orders received, a key leading indicator, fell 0.4 percent in June from a year earlier after double-digit gains in the previous two months, data from the statistics office show. 

President Moon Jae-in has raised the tax on capital gains from investment homes and designated the entire city of Seoul an anti-speculation zone to stabilize prices. It's a difficult balancing act as the government seeks to root out property speculation without undermining construction investment, which accounted for more than half of the economy's expansion last year.
For SG Securities Korea Co.'s Oh Suk-tae, the question is, which sector will make up for the lost growth momentum from construction investment. 
"Exports are led mainly by semiconductors, and it's hard to expect consumption to dramatically improve," said Oh. "The government is seeking to promote an income-led, or consumption-led growth, but that's not easy with the property market regulated."
Marking his first 100 days in office yesterday, Moon said bringing stability to the housing market is critical, and that he's determined to address pressing areas of concern for national security.
"The government is confident property prices will cool as announced measures are stronger than those taken by previous administrations," Moon said. "If prices start to rise again after some time, more powerful measures are prepared."
Before it's here, it's on the Bloomberg Terminal.
LEARN MORE