Tillerson Affirms Korea Military Options After Bannon Scoffs
By
'Our approach has been endorsed by the president': Tillerson

Adviser Bannon has said there's 'no military solution here'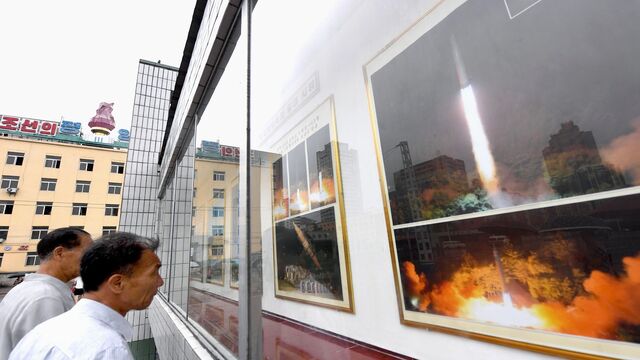 Secretary of State Rex Tillerson and Defense Secretary Jim Mattis said the prospect of U.S. military action remains on the table in response to North Korea's nuclear threat, rejecting an assertion by senior White House adviser Stephen Bannon that there's no such option.
The remarks from the Cabinet secretaries, after meeting with their Japanese counterparts at the State Department Thursday, made clear that they spurned Bannon's comments in an interview that there was no "military solution here, they got us."
While Tillerson said he wouldn't comment on Bannon's statement, he pointedly added, "Our approach has been endorsed by the president." Citing the latest round of United Nations sanctions against North Korea, Tillerson said there's "a unified international message like we've never had before," but that "has to be backed by a strong military consequence if North Korea chooses wrongly."
"That is the message the president has wanted to send to the leadership in North Korea," Tillerson said. President Donald Trump got attention -- and sparked alarm -- with comments that threats from Kim Jong Un's regime, which has pledged to develop a nuclear missile that could hit the U.S. mainland, would be met with "fire and fury."
Read More: Bannon Tells Magazine About White House Feuds Over China
The primary message from Thursday's meeting, the first between top U.S. and Japanese foreign policy and defense officials in the Trump administration, was the strength of their alliance and the U.S. determination to protect Japan, its treaty ally, in the event of hostilities with North Korea. They emphasized North Korea's isolation in the face of a unified international demand that it abandon its nuclear and ballistic-missile ambitions.
A key component of the administration's approach, backed by Japan, has been to press China, North Korea's neighbor and biggest economic partner, to do more to implement sanctions against Kim's regime in the effort to force it to abandon its nuclear arsenal.
But the administration's stance was muddied by Bannon's remarks, in which he said China was "just tapping us along" and that the U.S. should concentrate instead on its "economic war" with the country. In the interview with "The American Prospect," Bannon said he might consider a deal in which the U.S. would withdraw troops from South Korea in exchange for a North Korean nuclear freeze -- an idea that goes far beyond anything suggested by Tillerson or Mattis.
Referring to the acronym for North Korea's formal name, Mattis said, "I can assure you that, in close cooperation with our allies, there are strong military consequences if DPRK initiates hostilities."
Tillerson's remarks may have been aimed in part at reassuring South Korean President Moon Jae-in, who has asserted that South Korea would need to give its consent to any military strike on the Korean peninsula. The top U.S. diplomat said a conflict with North Korea "would pose an immediate danger to our allies and their populations."
"We're prepared with our allies to respond as necessary," Tillerson said, though he added "that is not our preferred option."
In a joint statement issued after the half-day meeting, Japan reiterated its intention to expand its defense capabilities as well as its role in the alliance with the U.S.
Before it's here, it's on the Bloomberg Terminal.
LEARN MORE