For the Dollar, It's All About Trump, No Matter How You Slice It
By
Watch the correlation between disapproval ratings, greenback

Dollar swings between highs and lows amid Cohn speculation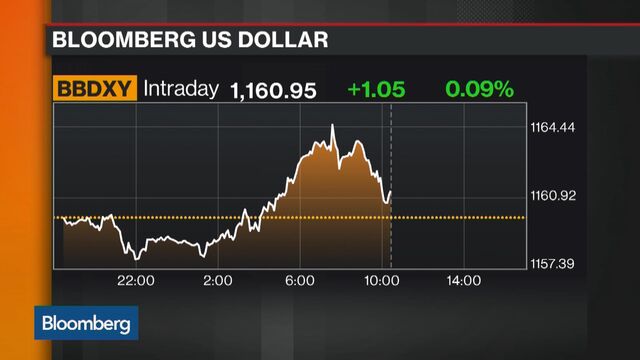 Wherever it goes, the dollar is all about Donald Trump.
After rising and falling in the past year with the prospects of the U.S. president's economic agenda, the greenback appears to be reverting to its frequently held role as a refuge during times of turmoil, especially with Trump's comments on racial politics in the past week.
"Political uncertainty may be reconnecting with a strengthening dollar, which is normally what happens," said Ben Emons, chief economic at Intellectus Partners and a Bloomberg View contributor.
Investors increasingly see Trump's continued fumbling as a big problem for the prospects of his pro-growth agenda. The recent rise in Trump's disapproval rating and the dollar's value, as seen in the chart below, makes that apparent.

Of course the dollar isn't in a vacuum. The Bloomberg Dollar Spot Index gained in part Wednesday as the euro slid off European Central Bank officials' comments that they were worried about its strength.
But politics are now paramount. Just take a look at how the greenback reacted today to speculation that Gary Cohn, the director of the administration's National Economic Council, was quiting. After spiking lower, it recovered when a White House official said he will remain.
Before it's here, it's on the Bloomberg Terminal.
LEARN MORE