Five Things You Need to Know to Start Your Day
Get caught up on what's moving markets in Asia.
By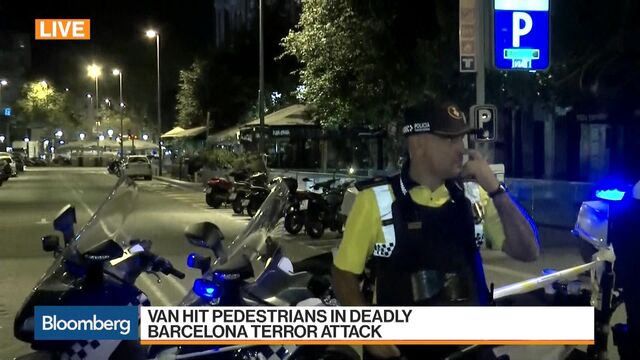 Want to receive this post in your inbox every morning? Sign up here.
U.S. stocks slump by most in three months, deadly terror attack in Barcelona, and an update on China's most important sector. Here are some of the things people in markets are talking about.
Stocks Sink
The S&P 500 Index suffered its biggest selloff in three months amid swelling political turmoil that's seen U.S. President Donald Trump seemingly lose the support of Corporate America, with stocks ending at session lows. All eleven sectors were negative on the day. West Texas Intermediate rose to about $47 per barrel, a new "battle line" for the commodity. Investors flocked to safe havens, sending gold and Treasuries higher. The U.S. dollar got the bronze medal among G-10 currencies Thursday, trailing the yen and Swiss franc. The rise in Trump's disapproval rating is seen as contributing to gains for the greenback.
Terrorist Attack in Spain
A terror attack in Barcelona left 13 dead and dozens injured after the driver of a van struck pedestrians in the heart of the city's tourist district. Two suspects have been arrested as of 6:30 a.m. Tokyo time, but neither is the driver of the vehicle, according to police. The Islamic State has taken credit for the attack, which echoes others perpetrated in Berlin, Nice, Stockholm, and London in recent years. A senior police official said the attack was "connected" to an explosion the previous night that killed one in a town south of the city. Eurasia Group Europe analyst Federico Santi suggested Barcelona's status as a major tourist hub made it an attractive target for terrorists, as Spain is not playing an active role in the military campaign against the Islamic State. U.S. President Donald Trump condemned the attack and offered whatever help was needed.
Coming Up...
The top event on the economic calendar Friday is Chinese property prices for July, due out at 10:30 a.m. Tokyo time. Sixty of 70 cities saw new home prices rise month-on-month in June, despite modest declines in big cities like Beijing and Shanghai. Recent softening in real estate activity has caused analysts to opine that growth in the world's second-largest economy has probably peaked. We may also get an update on foreign direct investment in China, which was up 2.3 percent year-on-year as of June. Other data on deck include second-quarter GDP figures out of Malaysia, Taiwan, and Kazakhstan.
Cohn's Not Goin'
Top White House economic advisor Gary Cohn will remain in the administration, according to an official. Rumors that the former Goldman Sachs chief operating officer would be exiting Trump's team sparked a slump in stocks and a jump in volatility during early trading in New York, a prelude to the deeper selloff in the afternoon. Cohn was reportedly upset with the president's response to the deadly violence at a white nationalist rally in Charlottesville, Virginia last weekend. A friend interviewed for a profile of Cohn penned in 2011 said, "if something is not right, sometimes he has trouble letting it go."
Futures Down
S&P/ASX 200 and Nikkei 225 equity futures are trading well in the red ahead of the open, taking their cues from the selloff stateside. The MSCI Asia Pacific Index moved higher on Thursday amid sinking odds of an interest-rate increase from the Federal Reserve before the year is out. E-commerce giant Alibaba gained 2.9 percent during trading in New York after reporting second-quarter results that beat expectations on sales and profits.  However, investors will also need to weigh a warning the company received from the nation's top online regulator for allegedly carrying illicit content and helping users get around the great Chinese firewall.
What we've been reading
This is what caught our eye over the last 24 hours.
Before it's here, it's on the Bloomberg Terminal.
LEARN MORE