Dollar Pares Gains as Skittish Traders Focus on White House
By and
USD drops, then rebounds after false report on Trump advisor

Euro slides after ECB expresses concern on currency strength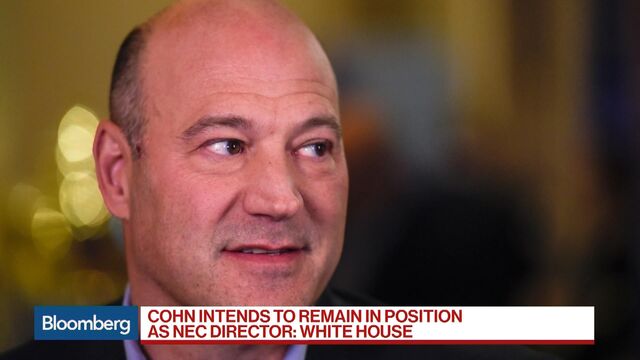 The dollar was on track to end the day slightly higher, recovering from a drop after a false report that Gary Cohn was resigning as director of President Trump's National Economic Council.
The greenback bounced back and was up less than 0.1 percent after a White House official affirmed that Cohn -- a top economic adviser said to be particularly upset over Trump's remarks on the violence in Charlottesville -- has no plans to resign. The dollar gained versus all of its G-10 peers save for the traditional havens of the yen and Swiss franc. Meanwhile, the euro fell to a three-week low against the dollar after the European Central Bank's July meeting minutes showed some concerns about recent strength in the common currency.

The prospect of Cohn's departure forced investors to consider possible consequences for Trump's economic agenda and who might take his place as front-runner to lead the Fed once Chair Yellen's term expires Feb. 3, Bloomberg Intelligence's Michael McDonough said. Treasury yields declined on the Cohn rumors and fell further below 2.20 percent even after the report was debunked
Reflecting the persistent anxiety over turmoil surrounding the Trump administration, as well as the decline in yields and a drop in stocks, USD/JPY and USD/CHF both fell more than 0.5%. USD/JPY was trading around 109.65, near a session low of 109.61. The pair had briefly rebounded above 110.00 before resuming its decline. Overnight, the pair traded as high as 110.37 before offers ahead of 110.50 capped gains
Adding to unease in financial markets, Barcelona reported a terrorist attack in the European evening involving a van driven into pedestrians on a main avenue; authorities say 13 people are dead and 50 injured
Following the release of the ECB minutes, EUR/USD dropped as low as 1.1662, then pared losses and was trading around 1.1745. Bids to buy EUR cushioned the drop ahead of 1.1650 and hedge funds were seen buying EUR as it snapped back to 1.1700 shortly after setting the low, said traders familiar with the transactions who asked not to be identified because they are not authorized to speak publicly
ECB officials said "the appreciation of the euro to date could be seen in part as reflecting changes in relative fundamentals in the euro area vis-a-vis the rest of the world," but "concerns were expressed about the risk of the exchange rate overshooting in the future." Traders had been on alert for language regarding the currency after ECB President Draghi said in his press conference after the meeting that the currency move had been noted
JPMorgan raised its EUR/USD forecast to 1.20 in 4Q (vs 1.16) and 1.25 in 3Q 2018 in part on Trump's declining approval rating and policy missteps, "which in turn preserve the risk of a complicated debt ceiling debate once Congress returns from summer recess"
Separately, Dallas Fed President Kaplan said policy makers "should be very patient and judicious" about the next move on rates; says he wants to see more progress on raising inflation before hiking rates again, but is OK with getting the process of shrinking the balance sheet underway in near future
Before it's here, it's on the Bloomberg Terminal.
LEARN MORE