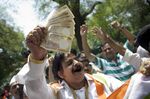 India's worst lender by asset quality hasn't paid a dividend in two years, and so far this year, hapless investors in IDBI Bank Ltd. are sitting on a 22 percent share-price drop.
Bondholders, however, are having a gala time. With notes that are almost as unsafe as equity -- perpetual securities that would get written down should the lender face a capital shortage -- they're pocketing a cool 5 percent spread over Libor 1  simply by betting that New Delhi won't dare bail them in.

They're right.
Just this month, the Indian government injected 18.6 billion rupees ($290 million) of fresh equity into IDBI, five days before the Mumbai-based lender announced an 8.53 billion rupee loss for the June quarter and a surge in bad loans to 24.1 percent of the total, the highest among the country's deposit-taking institutions.
Without this infusion, IDBI might have had to skip a payment on its additional Tier 1 instruments. 2 A missed payment could have made it more difficult for banks to raise the capital they need under Basel III norms, increasing the already onerous cost of recapitalizing India's state-controlled lenders, according to Fitch Ratings Ltd.
The knowledge that the government won't let state-run banks miss a bond coupon may well weaken the pressure on lenders to raise equity from the market, as Fitch says. Yet this moral hazard will be hard to eliminate. The government, being cash-constrained, doesn't want to upset a perpetual bond market that's been a source of $4.6 billion in capital so far this year for the Indian banking system, up from $3 billion in all of 2016.

Earlier this year, the Reserve Bank of India relaxed norms to triple the pool of reserves that lenders could tap to pay additional Tier 1 bondholders. This was done to make debt servicing easier for state-run banks with little or no current earnings.
With less risk, the bonds became slightly cheaper. Coupons on this year's AT1 issues have ranged between 8.1 percent for State Bank of India and 11.15 percent for Allahabad Bank. The latter, too, got 4.18 billion rupees of fresh capital from New Delhi this month, pushing the government's stake to 68 percent. Given Allahabad's return on equity of minus 2 percent, there's no reason why taxpayers' embrace should get any tighter. But because a bailout is assured, the bank can find willing takers for its perps.
At some point, the debate sparked by European regulators' decision to impose losses on subordinated junior note holders in Banco Popular Espanol SA and Italy's Banca Monte dei Paschi di Siena SpA will reach India. For now, though, AT1 capital, which is expensive because of its loss-absorption features, looks set to remain a dry sponge.
Bail-in capital will continue to get bailed out by taxpayers. From creditors' point of view, that makes India's state-run banks, riddled with bad loans, paradoxically a good place to be.
The rupee bonds pay a 10.95 percent annual coupon, which translates to a 485-basis-point premium over three-month dollar Libor, according to the Bloomberg asset swap calculator.
Before it's here, it's on the Bloomberg Terminal.
LEARN MORE