S&P's Biggest Drop Was a Selloff Waiting to Happen
By
More stocks making lows while market hovers near all-time high

Similar patterns since 1972 almost always led to trouble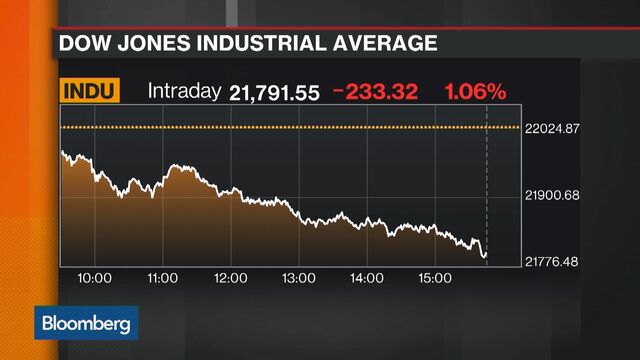 Is the market's latest fit of nerves normal restlessness, or something worse? Based on an analysis that considers not political sensitivity but the breadth of share moves, don't be surprised if it's the latter.
Take the S&P 500's bounce starting a week ago, in which the index recouped nearly all of the drop tied to tensions with North Korea. A problem arises when you look deeper into the rebound and see that it happened with the aid of a narrowing cohort of stocks, Sundial Capital Research says.
In fact, companies on the New York Stock Exchange making new 52-week lows outnumbered those making highs the last three times the benchmark gauge rose. Similar imbalance has often preceded pain in the past and today was no exception with the S&P 500 plunging 1.5 percent.

Evidence is building that the market's long stretch of tranquility is breaking. The S&P 500 swung at least 1 percent in three of the last six sessions after spending the previous three weeks without a move of more than 0.3 percent.
As speculation swirls about the impact of politics on share prices, Sundial's research represents a different form of analysis, examining whether the market is moving as a healthy whole or with weakening conviction. An inequitable distribution of wealth is seen as worrisome.
The breakdown raises questions about the foundations of the S&P 500, which through Wednesday had staged one of its faster recoveries from a selloff. Seven times since 1972 has the S&P 500 been within 1 percent of an all-time high over a week while new lows were almost twice as common as new highs. All but one led to further losses.
Sundial examined another contour of the market meant to illuminate its bifurcation, namely, the growing proliferation of new lows and new highs on the same day. In five of the last six sessions, both counts have represented more than 2.8 percent of all stocks -- a rate of divergence not seen since November 2007, when the last bull market had just ended.
"It is a serious signal that highlights times of decoupling within an index or exchange," Jason Goepfert, president of Minneapolis-based Sundial, wrote in a note.
The S&P 500 dropped 1.5 percent, the most since May, to halt a recovery that lifted the index to within 6 points of a record 2,480.91 reached Aug. 7. Thursday's retreat was the broadest of the year, with all but 24 of the index's members declining. Stocks last week suffered a similar selloff as tensions grew between the U.S. and North Korea over nuclear threat.
Before it's here, it's on the Bloomberg Terminal.
LEARN MORE