Congo Suspends Value-Added Tax on Mining Imports
By
State resumed VAT collections after July 2016 decree lapsed

Mining industry awaiting reimbursement of about $700 million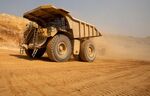 The Democratic Republic of Congo suspended value-added tax on imports by mining companies after briefly reinstating the duty, the country's main business chamber said.
Customs authorities had resumed collecting VAT on imports including machinery soon after a July 2016 decree halting remittances expired last month, Federation des Entreprises du Congo Managing Director Kimona Bononge said in a letter to Finance Minister Henri Yav Mulang. The minister has subsequently "resolved the problem," Bononge said by phone from Kinshasa, the capital.
"The finance minister has given an instruction to the DGDA to not collect VAT on imports by mining companies," Bononge said by phone Tuesday from the capital, Kinshasa, referring to the tax-collecting department within the ministry. Chamber of Mines Secretary-General John Nkono said the instruction was contained in a letter sent by Yav Mulang to the DGDA.
Congo halted the reimbursement of VAT in April 2016 and suspended VAT on imports three months later to protect the Congolese franc. The currency weakened 21 percent last year as revenue from the industry, the main driver of the country's $35 billion economy, fell because of lower metal prices. The central African nation is the world's largest source of cobalt, a key ingredient in batteries that power everything from Apple Inc. iPhones to Tesla Inc,'s new Model 3 electric car, and the continent's biggest copper and tin producer.
The July 2016 decree was also introduced to help the government address a backlog of VAT reimbursements owed to mining companies that Nkono estimated at $700 million. Companies in Congo can claim VAT reimbursements if they are exporters, or invest at least $200,000 in the country, according to the website of Kinshasa-based law firm Yav & Associates.
Yav Mulang's mobile phone was turned off when Bloomberg called him seeking comment.
(
Corrects month in penultimate paragraph.
)
Before it's here, it's on the Bloomberg Terminal.
LEARN MORE