Australia Adds More Jobs Than Forecast on Part-Time Rebound
By
Resource-rich Queensland state accounted for bulk of gains

Tasmania replaces South Australia as highest jobless region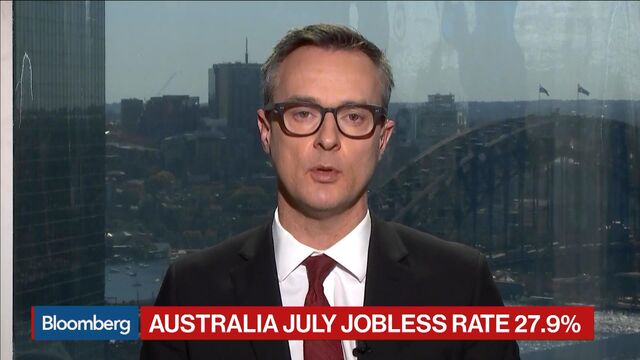 Start your day with what's moving markets. Sign up here to receive our newsletter.
Australia added more jobs than forecast in July, even as a burst of full-time hiring came to an end, setting up a mixed picture for a central bank that's been showing confidence the labor market is on the mend.
Key Details
Employment rose 27,900 from June, almost all in the state of Queensland; economists forecast 20,000 gain
Jobless rate falls to 5.6% from revised 5.7% in June; estimate 5.6%
Full-time jobs fell by 20,300, the biggest decline since January; part-time employment rose 48,200
Participation rate climbed to 65.1% from 65% ; economists predicted 65%
Aussie dollar bought 79.28 U.S. cents at 12:40 p.m. in Sydney compared with 79.47 cents pre-data
Big Picture
The data provide ammunition to both hawks and doves. For the Reserve Bank of Australia, rising employment chimes with its confidence of a strengthening labor market boosting income growth and supporting consumption. For doves, the slump in full-time employment and monthly hours worked supports the view of a soft underbelly in a jobs market looking sound at the headline level.
The RBA has kept the cash rate at a record low 1.5 percent for the past year to cushion the economy's transition to manufacturing and services-driven growth and away from mining investment. Markets are pricing in little chance of a hike until the second half of next year in an environment of weak wage growth and tepid inflation, a picture reflected in many developed world economies.

Economist Takeaways
The rise in employment "continues the recent very good run and is going someway to cushioning the blow to households' finances from record low wage growth," said Paul Dales at Capital Economics. "The past volatility of the data means it pays not to get too excited by strong employment data and not to get too worried by weak data."
"Overall we'd consider this a robust employment report -- and one that follows a string of solid gains," said Adam Boyton of Deutsche Bank. "Employment has risen by 1.9% in Western Australia over the past year and 2.7% in Queensland after some pronounced weakness. This suggests to us that the post-mining investment boom adjustment is now largely complete in those two states."
"There is still a high degree of slack across the labor market," said Callam Pickering of Indeed. "This is helping to contain wage growth and indicates that the economy still has some way to go before the Reserve Bank should contemplate tighter monetary policy."
Other Details
Unemployment rose in the two states driving the national economy, New South Wales and Victoria, to 5% and 6.1% respectively
The island state of Tasmania recorded the biggest lift in jobless, to 6.3% from 5.6%; it also regained the mantle of the worst unemployment rate after South Australia dropped to 6.2% from 6.6%
The resource-rich and tourist destination of Queensland recorded the bulk of the jobs increase with 27,000 positions; Victoria and Tasmania shared the biggest losses with 2,200 apiece
Monthly hours worked in all jobs decreased 14.4 million hours, or 0.8%, to 1,690.4 million
Before it's here, it's on the Bloomberg Terminal.
LEARN MORE