August's Heavy Hand Hits Currency: Australia's Week in Charts
By
Strong jobs growth continues, as does weakness in wage growth

Bond yields have stopped rising and that's restraining Aussie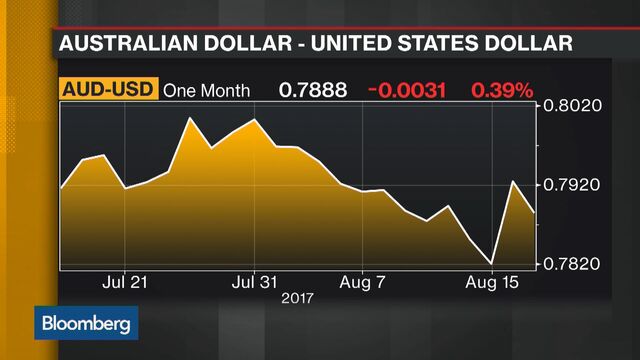 August has often been one of the crueler months for the Aussie dollar and this year looks to be no different, with the currency dismissing solid economic data to beat a retreat from a two-year high.
The country's retail sales came roaring back, business confidence climbed and jobs rose more than expected, recent indicators have shown. Cutting against that has been a dash of geopolitical concern over North Korea that helped restrain local bond yields, and thereby one of the Aussie's main attractions. Subdued wage gains didn't help.
The following charts highlight the moves and the dynamics behind them.

A look at bond markets shows that investors have been signaling for a while that the Aussie's climb to a two-year high last month might have been overextended. The extra yield that local 10-year notes offer over similarly dated Treasuries peaked at just under 50 basis points in mid-July, but the currency kept on appreciating.

The Aussie reached its recent peak at 80.66 U.S. cents July 27 and that may be as good as it gets for a while. Should the currency end this month above 80.03 cents, it would mark only the third August gain since 2005. The risk-appetite sensitive Aussie has been vulnerable to August shocks, falling 1 percent in the month on average since 1990, making it the worst month outside of May.

The bull case for the economy is still bubbling away, however, and indeed a pause in currency gains will be welcomed by the Reserve Bank among others. Businesses remain confident, and that's helping to back bets among swaps traders that policy makers will increase the benchmark interest rate a year or so from now -- something they haven't done since 2010.
Hedge funds also look to have been sticking to their guns. Leveraged funds boosted their net longs on the Aussie last week to 71,631 contracts. That level of bullishness was last seen in 2013 -- just before the currency began its collapse from record highs above $1.

Before it's here, it's on the Bloomberg Terminal.
LEARN MORE