Anti-Muslim Firebrand Hanson Wears Burqa in Australian Senate
By
Senator draws gasps, jeers from mainstream lawmakers for stunt

Hanson claims Islamic covering could abet terrorism plots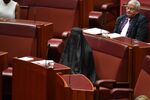 Follow @bpolitics for all the latest news, and sign up for our daily Balance of Power newsletter.
Anti-Muslim immigration lawmaker Pauline Hanson came to Australia's Senate dressed in a burqa on Thursday in a stunt that was derided by mainstream politicians.
Hanson, 63, entered the upper house to gasps from lawmakers in Prime Minister Malcolm Turnbull's coalition and the opposition Labor party. After several minutes she removed her head covering to demand the government ban the garment in public places, claiming it could be used to abet terrorism plots. The burqa is worn by some Muslim women in accordance with their faith.
It's the latest bid by Hanson to draw attention to her stance against Muslims, which includes demands to ban their migration to Australia, installing closed-circuit cameras in mosques and holding a widespread public inquiry into Islam.
The senator, who was elected to the lower house in the 1990s on an anti-Asian immigration platform before her party imploded, returned to parliament last year along with three other members of her One Nation party. Turnbull usually needs the votes of One Nation senators to pass legislation.
While Muslims represent less than 3 percent of Australia's population, Hanson claims they are responsible for all recent terrorism-linked crimes in the country. Her comments come as racial tensions increase in other Western nations including the U.S., where white supremacists and anti-fascists clashed in Charlottesville. President Donald Trump has sparked a furor in the U.S. by equating white supremacists to counter-protesters.
'True threat'
Australian intelligence services have disrupted or stopped 13 major terrorism plans since 2014, according to the government, including a plot uncovered last month where two men allegedly planned to blow up a plane with a bomb made with explosives provided by Islamic State. In December 2014, a gunman who'd claimed allegiance to Islamic State died after a siege at a Sydney cafe, alongside two hostages.
"Terrorism is a true threat to our country," Hanson said in her question to Attorney General George Brandis, when she asked for the government ban on the burqa. "Many Australians are in fear of it."
Brandis quickly dismissed Hanson's request, and said his advice from intelligence agencies was the government should work closely with Islamic communities to counter extremism.
"We have about half a million Australians in this country of the Islamic faith and the vast majority of them are law-abiding, good Australians," Brandis said, his voiced shaking with emotion. "To ridicule that community, to drive it into a corner, to mock its religious garments, is an appalling thing to do and I would ask you to reflect on what you have done."
His comments drew applause and a standing ovation from Labor and Greens lawmakers.
Before it's here, it's on the Bloomberg Terminal.
LEARN MORE