ADP Falls Even as Ackman Argues Stock Could Double by 2021
By
Activist investor contends ADP is losing ground to competitors

Stock falls; short seller says Ackman's points show downside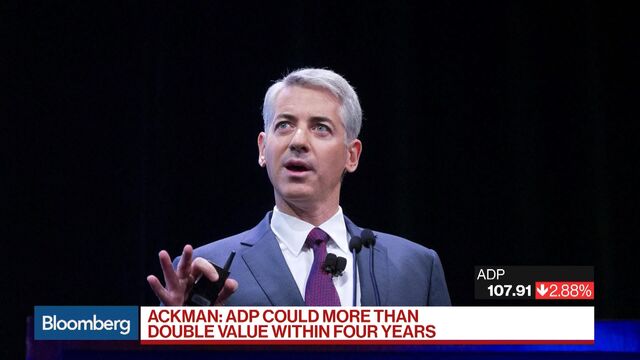 Activist investor Bill Ackman made his pitch for Automatic Data Processing Inc. more than doubling its value within four years if it can fix the "buy not build" strategy that he says has left it riddled with inefficiencies.
Investors sent the stock lower.
The billionaire head of Pershing Square Capital Management said during a 3 1/2-hour conference call Thursday that his push for change at the payroll and human-resources outsourcer has been met by hostility from management and skepticism from analysts. Ackman added that he believes ADP will probably need a new chief executive officer.
"The question is why has the market and why has the board not recognized the problem," Ackman said. "The answer to the question is the company has done a pretty good job hiding the problem, and that relates to complex accounting and reductions in disclosure over time."
Ackman claims ADP's shares could ascend to $221 to $255 by June 2021, returning as much as 132 percent to shareholders. ADP fell 5.8 percent to $104.68 in New York Thursday. The shares have fallen 1.2 percent since Pershing Square's stake was first reported in July.
While strongly disagreeing with Ackman's assertions, ADP responded in a statement that it's always open to good ideas. It said Ackman's presentation "betrays a fundamental lack of understanding" about the current state of the business.
'Transforming' Culture
"He presented nothing that has not previously been analyzed by the board and management," the company said. "ADP is not resting on its laurels. Our board and management team are thoughtfully transforming our organization and culture to compete effectively and drive global growth in the evolving human capital management market."
ADP has said it's returned 202 percent to shareholders since CEO Carlos Rodriguez took over in 2011.
ADP largely remains a traditional payroll company that has tacked on a series of acquisitions to grow into new software offerings, Ackman said. That "buy not build" strategy has led to inefficiencies because ADP has failed to fully integrate the new businesses, he said. That's led to a lack of innovation and slower uptake on new products from its clients, Ackman said, arguing that ADP should either upgrade or replace its back-end infrastructure to improve efficiency.
Short Seller
"If I didn't know better, I'd think he was making the short case -- slowing growth, increasing competition, overstated numbers, uncreative management," Robert Chapman, fund manager at Chapman Capital, said in an email. He has a short position on ADP's stock.
Commentary: Ackman Is Long ADP, But You Wouldn't Know It
Ackman does make a strong case for the need for margin improvement at the company, said David Togut, an analyst with Evercore ISI. He said also agreed that ADP was losing market share and its technology may not be up to par.
The improvement Ackman is seeking to ADP's margins "will be very difficult to achieve,"' Togut sad.
During his presentation, Ackman highlighted the dramatic margin expansion at CDK Global Inc. after it was spun out from ADP in 2014.
CDK Spinout
CDK, unlike ADP though, forms a "benign monopoly" with Reynolds & Reynolds Co. providing technology to high-end franchised auto dealers, Togut said. Reynolds & Reynolds also charges a 30 percent price premium to CDK. 
ADP can't raise its prices due to competition, Togut said. It also faces obstacles to matching the margins of smaller rivals such as Paychex Inc., which focus more on the high-margin small business segment, he said.
Pershing Square disclosed an 8.3 percent stake in ADP on Aug. 7 and is seeking three board seats, including one for Ackman. The two sides are expected to meet in early September after ADP vets the nominees. Ackman said he was scheduled to be interviewed by ADP's nomination committee Thursday afternoon.
Ackman said he faced similar skepticism at Canadian Pacific Railway Ltd. in 2012, when the company said it was absurd that it could double its margins.
"They hired a consultant that said the laws of physics wouldn't allow us to increase margins at Canadian Pacific from 19 to anything close to our 35 percent estimate," he said. 
Canadian Pacific reported an earnings before interest, taxes, depreciation and amortization margin of 51 percent as of June 30. Pershing Square made $2.6 billion on its investment in the Canadian railroad.
Smaller Rivals
ADP's failure to address acquisition and efficiency issues has allowed competitors, including Paychex and Paycom Software Inc., to gain market share from ADP, Ackman argues. He said Thursday the company should consider buying one of its smaller rivals to accelerate changes, though its culture would need to change for it to be integrated properly.
The 20-year average tenure of ADP's senior management has created an insular culture, Ackman said. The company, based in Roseland, New Jersey, should be recruiting from Silicon Valley firms like Google to become more innovative, he said.
ADP, which handles the paychecks of 26 million U.S. workers, has said Ackman originally wanted five seats on the company's 10-member board, a proposal the company said it rejected along with possibly replacing Rodriguez. ADP said in a statement last week that it would review Ackman's revised slate of nominees and their ability to add value to the board.
Rodriguez, in an Aug. 10 interview on CNBC, likened Ackman to a "used-car salesman" and compared his request to extend the nomination deadline to a "spoiled brat" asking a teacher for more time to complete an assignment.
— With assistance by Catherine Larkin, Lily Katz, and Joshua Fineman
Before it's here, it's on the Bloomberg Terminal.
LEARN MORE