Zimbabwe Seeks Immunity in South Africa for Grace Mugabe
By and
South African woman laid charge of assault against Mugabe

Zimbabwean first lady failed to report to police on Tuesday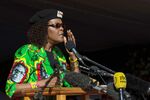 Zimbabwe's government has requested diplomatic immunity in South Africa for President Robert Mugabe's wife Grace Mugabe after a charge of assault was laid against her.
"Mrs. Mugabe's legal team has asked for diplomatic immunity and the request is under consideration," Clayson Monyela, spokesman for South Africa's Department of International Relations and Cooperation, said by phone on Wednesday. "It will be considered by our political principals."
Zimbabwe's ambassador in South Africa, Isaac Moyo, didn't immediately answer phone calls seeking comment.
South African media including the Star newspaper reported that Mugabe assaulted a local woman with an electric extension cord in a hotel in the affluent Sandton suburb in Johannesburg on Aug. 13. While she agreed to hand herself over to police on Tuesday after the alleged victim laid a charge of assault with intent to do grievous bodily harm, she failed do to so, the police said.
Mugabe is still in South Africa and attending the Southern African Development Community heads of state meeting in Pretoria, the capital, the Police Ministry said in a statement posted on Twitter on Wednesday.
The heads of state of the SADC countries are scheduled to arrive at the Waterkloof air-force base outside Pretoria on Thursday and Friday with the "first spouses program" commencing only on Aug. 19, according to the meeting agenda.
"If you are on official business and something were to happen then you would claim immunity, but in the case of Mrs. Mugabe, it has nothing to with immunity because it was a private act," retired law professor Marinus Weichers said by phone. "A diplomatic passport does not exempt from prosecution from a public act of criminality."
Discussions with Mugabe's lawyers and the Zimbabwean High Commission representatives are taking place to make sure that "the suspect is processed through the legal system," the Police Ministry said.
Before it's here, it's on the Bloomberg Terminal.
LEARN MORE