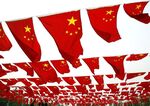 China's global dealmaking is doing fine -- just as long as it's the government buying.
While intense scrutiny of debt-fueled acquisitions by private companies such as Dalian Wanda Group Co. brought last year's record takeover spree back to earth, spending on overseas assets by state-backed companies is continuing unabated. There's every reason to expect that trend to grow.

Government-driven purchases mostly don't spark the same headline buzz as, for example, Wanda buying the movie studio that financed the Godzilla franchise or HNA Group Co.'s acquisition of a quarter of Hilton Worldwide Holdings Inc. Concern that private companies were wasting money on trophy assets, driving up corporate debt and using acquisitions as a cover to ship capital out of China helped spur the crackdown.
By contrast, state-backed acquisitions are focusing on assets deemed to be in the national interest or that fit with President Xi Jinping's Belt and Road initiative. Perhaps the most striking is China National Chemical Corp.'s planned $43 billion takeover of Swiss seed and herbicide maker Syngenta AG. Others include China Merchants Port Holdings Co.'s plan to invest as much as $1.12 billion in port facilities in Sri Lanka, which lies on the belt-and-road route. China Resources Power Holdings Co., meanwhile, is bidding for stakes in offshore British wind farms. 
In the first six months of this year, the state accounted for almost 60 percent of deals by value, according to the Rhodium Group. 
An earlier resource-centered buying spree by government companies went into reverse after the commodities cycle peaked, causing losses to some purchasers. Still, China's ownership of overseas assets remains small relative to the size of its economy, the world's second largest, being vastly overshadowed by former colonial powers such as the U.K. and France, and even Asian neighbors such as South Korea. 

Economic trends also suggest that Chinese state buying has further room to run. The pressure of a depreciating yuan that partly prompted the government's clampdown has now receded: China's currency has strengthened about 4 percent this year since touching a nine-year low of 6.96 to the dollar in early January, while the nation's foreign-exchange reserves have rebounded to $3.08 trillion after falling for more than two years.
With its current account still in surplus, China is saving more than it's investing domestically. If the difference isn't allowed to flow into risky assets offshore, that will continue to drive up foreign reserves, leading to fresh accusations of currency manipulation. To keep the balance, the nation will need to keep investing overseas.
It isn't only offshore where state buyers are active: They're also on the acquisition trail at home, in some cases acting as rescuers for troubled private companies. Citic Group Corp. is buying a stake in China Hongqiao Group Ltd., whose shares have been halted since March after being the subject of a short-seller attack. The investment comes months after China Citic Bank Corp., another arm of the conglomerate, provided the aluminum giant with an almost $3 billion credit line.  
China Chengtong Holdings Group Ltd., an asset manager whose mandate is to aid troubled state-owned enterprises, took a stake in China Petroleum & Chemical Corp.'s investment arm last year after the unit racked up more than $70 billion in debt on questionable foreign purchases.
Private companies haven't faded from the picture altogether, but are sticking closer to their knitting in overseas deals. Fosun International Ltd., one of the serial acquirers singled out by Beijing, is currently bidding for a U.S. specialty drugmaker, a purchase that would be in line with Beijing's aims to move up the value-added ladder in pharmaceuticals.
And for those that can't get money out of China for a prized bauble, there's always Hong Kong: real estate magnate Gao Jisheng managed to sidestep the crackdown on private overseas deals by funding his purchase of England's Southampton Football Club through the former British colony, according to the Financial Times.
Still, state companies look set to dominate for the time being. Chinese offshore buying isn't dead. It's just changing color.
Before it's here, it's on the Bloomberg Terminal.
LEARN MORE