UBS's Caprio Joins Chorus of Alarm Over U.S. Credit Markets
By
Strategists prefer European companies over U.S. counterparts

Yield premiums seen drifting higher into year-end by Caprio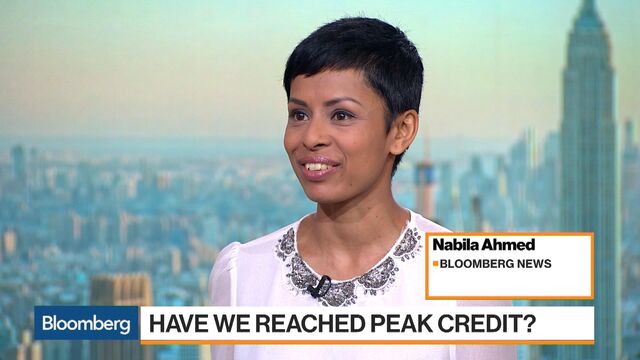 The selloff in U.S. credit markets that barely was may yet prove to be more than a summer fling.
Stretched positioning, rich valuations and a likely downtrend in the business cycle suggest U.S. credit spreads are poised to jump in the next six to 12 months, according to Stephen Caprio, a UBS Group AG credit analyst.
As cash balances have whittled away to post-crisis lows, investors' ability to soak up bumper bond issuance, such as Amazon.com Inc.'s $16 billion debt deal Tuesday, or battle outflows if volatility stages an uptick, now looks more constrained, he says.
"You'd rather see more rather than less cash on the sidelines in this environment of policy and geopolitical uncertainty," Caprio said by email. "Higher volatility would lead to higher cash balances in a bad way for markets through less demand and wider spreads."

Geopolitical angst, weaker-than-expected earnings from large issuers in media, retail and health care, and bumper supply have driven a selloff in U.S. high-yield and investment-grade debt this month. But with junk-debt investors getting just 3.9 percentage points of extra compensation compared with risk-free government debt, valuations remain close to a post-crisis low.

Caprio reckons spreads will drift higher into year-end, though they are unlikely to widen to early 2016 levels when global deflation fears loomed. He projects fair-value for U.S. investment-grade and high-yield spreads at 145 basis points and 485 basis points, respectively, citing Citigroup Inc. indexes, about 34 and 75 basis points wider than current levels.
While fears of peaking credit markets have snowballed since the 2007 financial crisis only for bulls to reclaim control, UBS argues the era of price gains is over, with investors left with paltry interest income to juice returns. Caprio's warning echoes a slew of alarms on pricey debt valuations over the past week sounded by investors and analysts, including Morgan Stanley, Pacific Investment Management Co. and T. Rowe Price Group Inc.
UBS strategists prefer euro credit over its U.S. counterpart -- contrary to HSBC Holdings' recommendation last week -- as investors aren't pricing-in fault-lines in the U.S. economy. The bank cites sluggish year-on-year credit growth, auto production, and investment ex-energy.
Caprio doesn't think the U.S. credit cycle will come to a screeching halt anytime soon, citing lax corporate-lending conditions, and fiscal support, but says current valuations are pricing-in perfection. U.S. junk bond prices, for example, imply a default rate of 2.5 percent for the next 12 months, versus 3.5 percent predicted by the Swiss bank.
A weaker dollar -- which continues to juice risk assets, from stocks, emerging markets to currency trades -- also won't boost U.S. credit by the same clip as its equity counterpart, according to UBS. Some 22 percent and 16 percent of revenue earned by investment-grade and high-yield issuers, respectively, benefit from greenback depreciation -- far below the 36 percent equivalent exposure among S&P 500 participants, it calculates. The Bloomberg Dollar Spot Index fell 0.5 percent Wednesday, after minutes from the July Federal Reserve meeting showed officials are concerned inflation will remain stubbornly low.
"Absent a severe escalation of geopolitical risk, we do not believe the credit markets will unravel," Caprio wrote in a note on Monday. "But we find it hard to justify spreads near cycle tights and we believe spreads will drift wider into year-end."
Before it's here, it's on the Bloomberg Terminal.
LEARN MORE