Photographer: Chris Ratcliffe/Bloomberg
Ireland Says It Won't Be Pawn in Brexit Talks, Puts EU on Spot
By , , and
Britain urges 'flexibility and imagination' in negotiations

Ireland says it will be stubborn in defending its interests
Follow @Brexit for all the latest news, and sign up to our daily Brexit Bulletin newsletter.
Ireland warned it won't be used as a pawn in wider negotiations on the terms of the U.K.'s departure from the European Union, as it called Britain's plans to avoid border checks after Brexit a "step forward."
Envoys need to show "flexibility and imagination" to devise post-Brexit arrangements on the island of Ireland that preserve free movement of people and goods across the border, the U.K.'s Brexit Department said Wednesday, laying out proposals to keep open what will the EU's only land frontier with the U.K. after Brexit.
"We will be realistic and fair but also stubborn in relation to defending Irish interests," Foreign Minister Simon Coveney told reporters in Dublin on Wednesday. "This is a good test for the EU in defending small countries' interests as well as large ones. We won't be picking fights for the sake of it but will be firm and clear."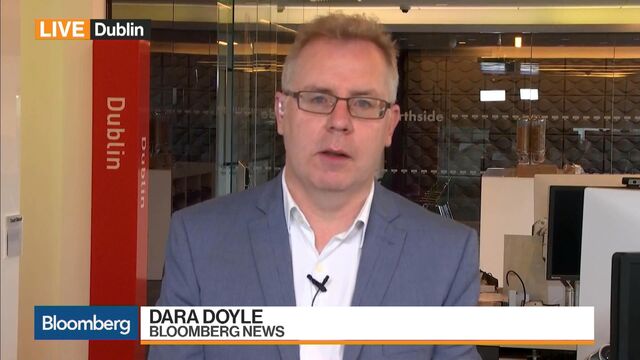 Read more about Britain's options for a trade deal with the EU
Checks along the 310-mile (500-kilometer) crossing largely melted way after a peace agreement in the 1990s, and the Irish government is demanding the frontier remains open after Brexit. Against that, the bloc's chief Brexit negotiator Michel Barnier maintains customs controls are part of EU border management, and French farmers are already objecting to an open border because of worries that cheaper non-European imports will enter the EU via the U.K.
While both sides want to avoid obstacles to trade, Britain's desire to leave the EU's customs union -- reiterated in the proposals set out Tuesday -- makes that tough.
The final shape of the border will depend on the deal the U.K. reaches with the EU on its future trading relations. Under one proposal advanced by the U.K. on Tuesday, called a "new customs partnership with the EU," a customs border wouldn't be needed because each side would enforce the other's customs rules. This would satisfy Ireland's demand to maintain the current situation.

Under a second suggestion, dubbed "a highly streamlined customs arrangement," Britain would extend customs declaration requirements currently in place for other nations to EU trade.
Britain also proposed:
That Northern Ireland should continue to benefit from EU peace program funding post-Brexit: the U.K. would contribute toward this
People born in Northern Ireland should continue to have the right to take Irish citizenship and therefore hold EU passports
The Common Travel Area comprising the U.K., Ireland, the Channel Islands and the Isle of Man should remain in operation post-Brexit
Envoys should explore an agreement on regulatory equivalence to allow for continued frictionless cross-border trade of agricultural products
Ireland and Northern Ireland should retain the single electricity market that's currently in place, and gas trading between the mainland U.K. and the island of Ireland should also continue
Coveney said the proposals reflect some of Ireland's goals, though leaving many questions unanswered on how they might be achieved.
"Delivering on the aspirations in these papers will be difficult," he said, calling some elements of the U.K.'s proposals "unworkable." "If technology can help then well and good but first it's a political negotiation and we need new political thinking to solve these problems."
Before it's here, it's on the Bloomberg Terminal.
LEARN MORE