Trump Says North Korea Made 'Wise' Choice by Forgoing Strike
By
President in Twitter post calls alternative 'catastrophic'

Kim had discussed plans to fire four ballistic missiles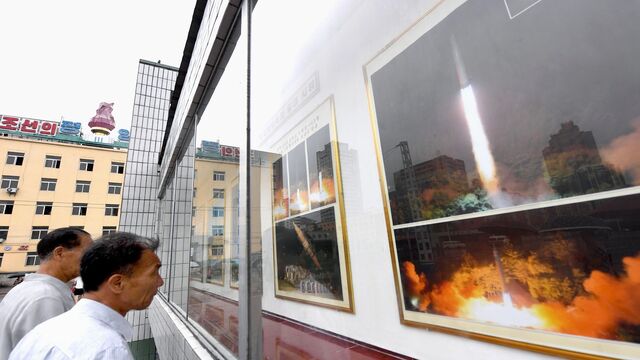 President Donald Trump said Kim Jong Un made a "very wise" decision after the North Korean leader opted to hold off on a missile strike near Guam.
"Kim Jong Un of North Korea made a very wise and well reasoned decision," Trump wrote Wednesday on Twitter. "The alternative would have been both catastrophic and unacceptable!"
Kim discussed plans to fire four intermediate-range ballistic missiles over Japan into waters near Guam with his commanding officers during an inspection of military forces on Monday, the state-run Korean Central News Agency reported. The North Korean leader said he will watch the U.S.'s conduct "a little more" and praised his strategic force for drawing up "a close and careful plan," KCNA said.
Last week, Trump said North Korea would be met with "fire and fury" if the country proceeded with threats against the U.S. The comments were part of an intensifying volley of threats between Trump and Kim, who has pushed forward with the development of a nuclear weapons program. The United Nations Security Council earlier this month unanimously approved sanctions against North Korea for its nuclear and missile programs. China, Pyongyang's ally and neighbor, supported the move.
In response to the sanctions, the North Korean military said it was examining a plan for "enveloping fire at the areas around Guam."
North Korea Defies the World With Nuclear Ambitions: QuickTake
About 7,000 U.S. military personnel and their families are on Guam, an unincorporated U.S. territory in the Pacific with a total population of 170,000. The strategic outpost is about 2,100 miles (3,400 kilometers) southeast of Pyongyang.
U.S. Defense Secretary Jim Mattis warned on Monday that it would be "game on" for war if North Korea fired missiles that hit the U.S. or its territories, including Guam.
Diplomatic Efforts
After Kim's decision not to strike, at least for now, the focus has shifted toward finding a diplomatic solution.
The State Department said Tuesday that North Korea would need to take additional steps before the U.S. would engage in negotiations.
"They know what they need to do, and the Secretary has said we're not going to negotiate our way back to the negotiating table," State Department spokeswoman Heather Nauert told reporters Tuesday.
At the UN, Secretary-General Antonio Guterres called for confidence-building measures to defuse tensions and a return to negotiations.
"As tensions rise, so does the risk of misunderstanding, miscalculation or escalation," Guterres told reporters Wednesday. "There are many possible avenues for this dialogue, from various bilateral formations to the six-party talks."

The talks, involving North Korea, South Korea, the U.S., China, Japan and Russia., ran from 2003 until 2009, when North Korea abandoned them.
South Korean President Moon Jae-in signaled this week that his country will no longer stay quiet as tensions escalate between the U.S. and North Korea.
In a speech on Tuesday, Moon asserted the right to veto any military action against Kim's regime, saying that decision should be made by "ourselves and not by anyone else." Drawing a sharp contrast with Trump's bellicose language, Moon vowed to prevent war at any cost.
— With assistance by Hooyeon Kim, David Tweed, Narae Kim, and Kambiz Foroohar
Before it's here, it's on the Bloomberg Terminal.
LEARN MORE