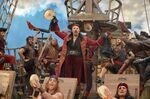 Don't be distracted by AP Moller-Maersk's unexpected second-quarter loss or the up to $300 million bill from a massive cyber-attack in June. Life's getting much easier for container shipping companies, though that's probably not great news for customers nor regulators.
To recap, Maersk's $264 million quarterly net loss was caused chiefly by valuation write-downs at a tanker unit already primed for separation. In contrast, Maersk's container shipping lines, the core of the newly restructured company, are doing well. Operating cash flow improved by about $700 million year-on-year and return on invested capital jumped too.
Higher freight rates, alongside improving demand, are a big plus. Average prices are about a fifth higher than a year ago, when desperately low rates forced South Korea's Hanjin Shipping to file for bankruptcy.
Prices have risen in part because there's subsequently less spare capacity. But Hanjin's demise has also coincided with a huge burst of merger and alliance activity, which potentially means less price pressure.
There's now only three major shipping alliances, controlling almost 80 percent of global capacity. And thanks to all the mergers (too many to list and with very long names!), just six companies account for two-thirds of the world's container capacity. 1  
Within 10 years, they might effectively control all of it. Maersk CEO Soren Skou told the Financial Times he expects just half a dozen big shipping companies to survive. Two years ago, there were about 20.

Given that 90 per cent of world trade is handled by shippers, it's remarkable that all this dealmaking has been waved through without more fuss. Indeed, if Hanjin represents the shipping industry's Lehman moment, we're in danger of repeating the same mistakes.
Similar to the banks a decade ago, container shipping companies deserve the blame for their current mess. Most ordered too many big ships and demand didn't keep up. But, as with the Wall Street institutions deemed "too big to fail", shipping companies have only gotten more concentrated since their moment of crisis.
Obviously, the kind of cyber-attack that brought Maersk ships and a terminal to a halt is one systemic concern when so much of the market is controlled by so few operators. But competition and pricing is even more worrying.
In theory, bigger companies should improve economies of scale and offer a cheaper service to customers. But it doesn't always pan out like that. Just look at the wider trend in recent years for more and more M&A across sectors, leading to increasingly oligopolistic industries. That's one explanation for why corporate profit has tended to rise:  

Consider aviation. Bankruptcies and mergers mean just four airlines control more than two-thirds of U.S. air traffic. Meanwhile, three joint ventures have a stranglehold on about 80 percent of transatlantic air traffic. 2  And U.S. airline profit has risen, a lot. Great for investors, not so much for customers.
This may all seem a way off for the loss-ridden shipping companies, but there is disquiet about the reshaping of the industry. The U.S. Department of Justice, for one, has voiced its unhappiness:
"This increase in concentration and reduction in the number of shipping alliances will likely facilitate coordination in an industry that is already prone to collusion... In general, a reduction in the number of firms in a  market may decrease the remaining firms' incentive to compete on price or innovation, particularly when the market is already highly or moderately concentrated.

In March, the DoJ raided a meeting of shipping executives and issued subpoenas, including to Maersk Line, as part of an investigation into anti-competitive behavior. So while investors are feeling more chipper, the industry's taste for consolidation might yet come back to sink it.
Before it's here, it's on the Bloomberg Terminal.
LEARN MORE