Russians May Have It Too Good for the Central Bank's Taste
By
Retail sales, real wages gained in July in line with forecasts

Households turning away from saving as recovery picks up speed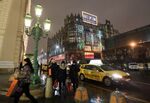 Good news for most Russians may be bad news for the central bank as it waits to resume monetary easing after a pause in July.
As wages grow and unemployment stays near a record low, households are increasingly turning away from saving. An index compiled by research company Nielsen, which measures online sentiment, showed consumer confidence rose in April-June to the highest in the last five quarters. The Bank of Russia has said its "moderately tight" stance is needed to motivate consumers to remain frugal even with inflation at its target.
But while retail lending continued to expand in July, both ruble and foreign-currency deposits in dollar terms shrank for the first time since January 2016, according to calculations by Moscow-based Rosbank PJSC. Almost a quarter of all Russians said it's a good time to buy durable goods and 11 percent believe it's an appropriate moment to borrow for large purchases, the most respondents to give such answers since 2015, according to July polls conducted by inFOM for the central bank.
"The pattern of the population's behavior is gradually shifting from saving mode to consumption," said Evgeny Koshelev, an analyst at Rosbank, the Russian unit of Societe General SA. "While the potential for rate reductions in two-three years won't necessarily change, the central bank may opt for a more cautious pace of policy easing if any abrupt drops in deposits and spikes in lending emerge going forward."
Data released on Thursday showed retail sales added an annual 1 percent in July, expanding for a fourth month after a contraction that lasted for over two years. A period of gains in earnings adjusted for inflation reached a full year as real wages surged 4.6 percent, according to the Federal Statistics Service.
Rate Path
With an economic recovery picking up speed after Russia's longest recession this century, monetary policy has actually grown more restrictive as inflation slowed faster than anticipated, decelerating in July to 3.9 percent on an annual basis from 5.4 percent at end-2016. The central bank delivered only 100 basis points of easing in three steps in 2017, before halting its easing cycle last month but saying there was still room for decreases in the second half of the year.
The Bank of Russia's focus has now shifted to keeping price growth stable near the target of 4 percent and anchoring inflation expectations at that level. With the benchmark rate at 9 percent, it's next scheduled to review borrowing costs on Sept. 15.

Price growth as perceived by Russians was at 11.9 percent in July, while inflation expectations for a year ahead reached 10.7 percent. Among the 30 biggest banks, the weighted average rate on retail deposits in rubles for as long as one year fell to 5.6 percent in June from 6.4 percent at the start of 2017, according to central bank data. The same measure on dollar accounts declined to 0.66 percent from 0.79 percent in the period. Individual savings in foreign currencies make up 22.5 percent of the total.
Policy makers have reiterated that a lower propensity to save could be a source of inflationary pressure in the medium term. The Bank of Russia is monitoring the risk from changes in households' behavior during the economic recovery, according to First Deputy Governor Ksenia Yudaeva. 
'Act Cautiously'
"That's one more reason we act cautiously," Yudaeva said in an interview last month. "Households compare deposit rates with their inflation expectations. And if returns relative to them go down significantly, then it may result in households starting to think it's better to consume more -- especially durable goods -- or to invest money in other instruments, for instance in foreign-currency ones."
Long-term deposits are actually the only instrument available to savers that the central bank can effectively influence with its rate policy, while all others depend more on the trend in incomes and the ruble's exchange rate, according to Raiffeisenbank.
"With the shift to the consumption model, it will be more difficult for the regulator to affect the population's behavior with rates," Stanislav Murashov, an analyst at Raiffeisenbank, said in an emailed note. "Therefore, the efficiency of monetary policy will decrease."
— With assistance by Zoya Shilova, and Dina Khrennikova
Before it's here, it's on the Bloomberg Terminal.
LEARN MORE