RBI Minutes Show Policy Makers' Push For Market Transmission
By
Patel, Acharya concerned about farm waivers; Patra on markets

External MPC members flagged risks about India growth outlook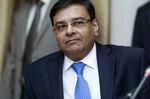 Start your day with what's moving markets in Asia. Sign up here to receive our newsletter.
Indian central bank Governor Urjit Patel and Deputy Viral Acharya are pushing commercial banks to cut borrowing costs in a bid to boost investment, after what many economists see as a final policy-rate reduction in this cycle.
Both voiced concerns about inflationary pressures from farm loan waivers announced by several state governments and warned this could crowd out private borrowers, according to minutes of this month's meeting published Wednesday. The six-member monetary policy committee had voted 5-1 for an interest-rate cut. The benchmark repurchase rate was lowered to 6 percent from 6.25 percent as predicted by 41 of 57 economists in a Bloomberg survey.
"Effective transmission of a policy rate cut is the key to achieving the goal of supporting the non-inflationary growth," Patel said in the statement. "There is still some space for banks to cut their lending rates, especially on the existing loan portfolios."
The comments risk aggravating differences with State Bank of India, the country's largest lender, which cut deposit rates days before the monetary authority's decision and said it was forced to do so to avoid raising borrowing costs. Policy makers are balancing deteriorating business conditions with a steeper-than-expected rebound in inflation that's closing the window for further easing.

The space for easing is also shrinking as the U.S. Federal Reserve will soon start tapering its balance sheet, said Chetan Ghate, another member of the Reserve Bank of India's MPC, who voted for a 25 basis point cut. His colleague Ravindra Dholakia, who'd urged a 50 basis point reduction, said there's severe slack in the economy, which will increase as the government pushes through with reforms. Pami Dua said that while the outlook for growth is worsening and global price pressures are easing, it remains to be seen whether India's record-low inflation is sustainable.
It isn't. Just two weeks after the RBI cut, data showed a steeper-than-expected rebound in consumer price-gains, though the 2.4 percent figure for July is still lower than the 4 percent mid-point of the central bank's medium-term target.
"In the near term, the inflation trajectory will continue to confuse," said Indranil Pan, chief economist at IDFC Bank Ltd. "Consequently, the bar for another cut by the RBI will be extremely high."
Read: Split Within India Central Bank Flags Flawed Inflation Model
The confusion was reflected on the MPC too, where the three central bankers broke ranks for the first time. While Patel and Acharya voted for a cut, Executive Director Michael Patra, the lone hawk, said lower borrowing costs risk amplifying risky behavior in markets which are already among the best performers in the world this year.
"The financial environment is bubbly and frothy," Patra said. "The combination of high valuations in equity and fixed income markets, an appreciating currency and the persistence of a liquidity overhang in the money market is a perfect recipe for a financial imbalance."
Policy makers should focus on improving conditions for sound transmission, such as healthy bank and corporate balance sheets, market-based benchmarking of bank lending rates and a thriving corporate bond market, according to Acharya. He also flagged uncertainties following the roll out of a nationwide sales tax as the reason for keeping a "neutral" outlook.
"Higher real rates are justified in the meantime as absent efficient transmission, attempts to address symptoms of balance-sheet problems with aggressive monetary easing get wasted," Acharya said, "and can even backfire by misallocating investments, fueling asset price inflation, creating false hopes of a growth boost, and relaxing the pedal on deeper structural reforms."
Acharya's comments mean there's little room for more rate cuts, Madhavi Arora and Upasna Bhardwaj, economists at Kotak Mahindra Bank Ltd., wrote in a note.
MPC MEMBER
AUGUST
JUNE
Patel
(middle)
"Present low level of food prices is unusual and is vulnerable to upward pressures"
"Considering the high uncertainty clouding the near-term inflation outlook, there is a need to avoid premature policy action at this stage"
Acharya
(middle-to-hawkish)
"Growth slowdown... is rooted in the stressed balance-sheets of our banks and corporates"
"I will watch next few months of inflation and real economic activity indicators closely to confirm if lower-than-target headline inflation and negative output gap are persistent"
Dua
(middle)
"Continuous monitoring of incoming data is required to ascertain the extent to which the recent (inflation) softening is durable"
"In view of the mixed risks to inflation and growth, it may be best to adopt a wait and watch policy as new data flows in"
Dholakia
(uber-dove)
"Neutral policy stance needs to be seriously reconsidered in favor of the accommodative stance"
"Prevailing inflation and output conditions and prospects are such that there is enough space for a substantial rate cut of 50 basis points if not more"
Ghate
(middle)
"While a significant decline in both headline inflation and inflation excluding food and fuel provides reason for cautious optimism, it remains unclear at this juncture whether these outcomes will sustain durably in the future"
"At this juncture, it would be prudent to wait and watch to see"
Patra
(uber-hawk)
"Why not stay on hold now, watch the shape and slope of the upturn and if it is benign, deliver credible monetary policy that supports the economy?"
"I vote to wait and watch the incoming data while retaining the flexibility of a neutral stance"
Before it's here, it's on the Bloomberg Terminal.
LEARN MORE