Philippine Central Bank Will Lift Rates If Economy Overheats
By
Governor signals tolerance of volatile currency in interview

GDP growth likely to accelerate in second quarter: officials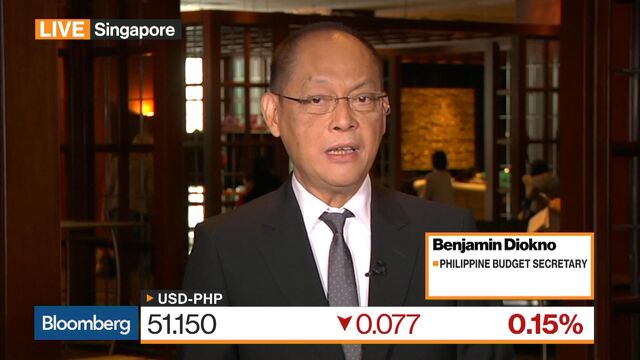 Start your day with what's moving markets in Asia. Sign up here to receive our newsletter.
The Philippine central bank is prepared to raise interest rates if it sees signs the economy is growing too fast, while tolerating a weaker currency for now, according to Governor Nestor Espenilla.
"When you do start jacking up interest rates is when we see signs of overheating in the economy," he said in an interview in Singapore on Tuesday. "We're not there yet," he said, adding that the peso's decline should be a signal to companies to avoid too much foreign borrowing and hedge their currency risk.

Economic growth in the Philippines, already among the world's highest, probably accelerated in the second quarter, officials said before data due Thursday. The country is set to post its first annual current-account deficit in 15 years amid strong domestic spending and an infrastructure program that's pushing up imports. The budget shortfall is widening and the peso has dropped 3.2 percent against the dollar this year, the worst performance in Asia.

Espenilla, who took over as governor last month, is "much more laissez faire" about the currency and isn't worried about peso weakness, Citigroup Inc. analysts including Johanna Chua in Hong Kong wrote in a note released Wednesday. Solid fundamentals will eventually cap declines, they wrote.
The Philippine currency plumbed a new 11-year low of 51.61 per dollar on Wednesday. It was little changed as of 1:49 p.m. in Manila after falling as much as 0.5 percent earlier.

"The peso is market-determined," Espenilla said. "In accepting that the currency will adjust and will be more volatile, that also sends a signal. It creates market discipline as well."
Formerly deputy governor at Bangko Sentral ng Pilipinas, Espenilla kept the benchmark interest rate unchanged at 3 percent on Aug. 10 in his first policy decision since taking office. Most economists surveyed by Bloomberg predict the central bank will raise rates by at least 25 basis points this year.
Inflation and the fiscal position remain under control, the governor said. The current-account deficit isn't blowing up in a way that's hard to sustain, and previous surpluses were due to under-spending, he said. Nevertheless, any shortfall will be kept within 1 percent of GDP, which is "very manageable and sustainable" and consistent with the Philippines' economic growth potential of 7 percent, Espenilla said.
GDP Report
Gross domestic product data for the second quarter will probably exceed the 6.4 percent pace recorded in the first three months of the year, Budget Secretary Benjamin Diokno said in a Bloomberg TV interview on Tuesday. GDP increased 6.4 percent last quarter from a year earlier, according to the median estimate in a Bloomberg survey.
The economy is on track to post growth of 7 percent for the full year, he said, underpinned by President Rodrigo Duterte's plan to ramp up spending on roads and railways.
Espenilla said the central bank also isn't worried on the inflationary impact from a tax reform bill that would help fund the government's infrastructure spending of $160 billion to $170 billion over the next five years.
Inflation could quicken by 0.5 percentage point next year to 3.7 percent, from a revised forecast of 3.2 percent, and then fall in 2019 as the tax reforms lure "confidence-building" inflows that are expected to boost the peso, he said. 
"The tax reform should not be responded to by monetary policy."
Before it's here, it's on the Bloomberg Terminal.
LEARN MORE