Maduro Ally Says Next Year's Presidential Election Still On
By
Caracas mayor says electoral calendar can't be moved

Rodriguez says Venezuela prepared for 'any type' of US action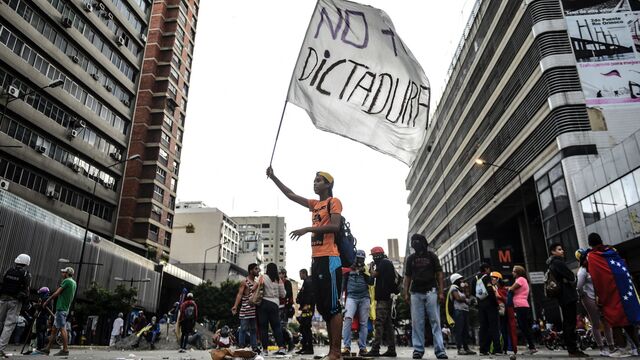 Next year's presidential elections in Venezuela will proceed as planned, according to a top ally of President Nicolas Maduro and former head of the South American country's electoral council.
Caracas Mayor Jorge Rodriguez, 51, denied claims leveled by Maduro's opponents that the so-called constituyente, a legislative super body that has claimed supreme power, will upend the electoral schedule or cancel the 2018 vote altogether.

"With the constituyente, the 1999 constitution is still valid," Rodriguez said in an interview. "The time frames established in the 1999 constitution are still current."
According to the nation's charter, the president must be inaugurated by Jan 10. of his first year in office. The election can be any time before, though they have typically been held in December.
Venezuela, which has the world's largest proven oil reserves, since April has been rocked by violent anti-government demonstrations against a campaign of repression that threatens its democracy. Promising to resolve a crisis that has claimed over 120 lives, Maduro installed the 545-delegate constituyente this month to rewrite Venezuela's constitution, bypassing the opposition-led congress. With support waning amid a crippling recession and widespread condemnation for his autocratic rule, the president faces the threat of severe economic sanctions, and even a potential "military option" by the U.S.
Venezuela's government has scoffed at a raft of U.S. sanctions on businessmen and lawmakers -- including on Maduro himself -- following last month's vote to elect the new assembly. Rodriguez, a member of the ruling socialist party leadership who has escaped punishment, echoed that approach.
"It's curious," he said. "I believe we're the first country to be sanctioned for having convened an election. The world upside down."
The sanctions have left Venezuela increasingly isolated, with governments from Canada to Chile denouncing the constituent assembly. Vice President Mike Pence said in Argentina on Tuesday that the U.S. would bring the "full weight" of economic sanctions in its push for new elections.
Rodriguez said the South American nation is prepared for any U.S. retaliation, even an embargo against Venezuela oil, the country's economic pillar.
"I have no doubt that crude markets exist all over the world," he said.
Venezuela's opposition coalition boycotted the elections for the constituyente and said the vote was fraudulent. Rodriguez dismissed claims of foul play, citing the opposition's decision to participate in gubernatorial elections in October as evidence that process would be free and fair.
"They speak of a dictatorship, but there are 196 opposition candidates on the ballot," he said. "If that was certain, why are they participating in this election?"
— With assistance by Fabiola Zerpa
Before it's here, it's on the Bloomberg Terminal.
LEARN MORE