Little Hope for More Sierra Leone Survivors as Funerals Commence
By and
Mudslide death toll estimated at 300, but 600 still missing

West African nation declares seven-day mourning period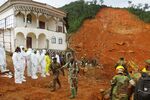 Rescue workers in Sierra Leone said they are unlikely to find more survivors of a mudslide that killed hundreds of people in the capital, Freetown, as the government began mass funerals to clear morgues and contain the spread of disease.
The death toll of the mudslide that covered dozens of homes on Monday on the outskirts of the city reached 297 people, lower than a previous estimate of 400, while 600 are still missing and 3,000 others homeless, Moustapha Diallo, a spokesman for the International Federation of Red Cross and Red Crescent Societies, said by phone on Wednesday. The number of casualties is difficult to determine as rescue workers often only uncover body parts, Diallo said.
"There's little hope to find survivors because it's been three days since the catastrophe," Diallo said. "Our volunteers are working with the morgues to bury the bodies of the victims."
The West African nation is dealing with the disaster less than two years after the end of an Ebola epidemic that killed more than 11,000 people in West Africa. As one of the countries that was hit hardest by the disease, its economy contracted by more than a fifth in 2015. Growth returned last year as gross domestic product expanded by 6.1 percent, according to World Bank data.
Environmental Practices
The mudslide happened after a mountainside collapsed in Regent in the southeast of Freetown following days of torrential rains. Deforestation and soil erosion probably contributed to the disaster, James Kamara, a spokesman for the Environment Protection Agency, said in a broadcast on Radio Democracy.
"The cutting of teak trees and bad environmental practices affected the soil," he said. "We need to protect the environment. We have been working but we are still at the initial stages of our operations."
Burials started on Tuesday and the government declared a mourning period of seven days, Minister of Tourism and Cultural Affairs Sidi Yahya Tunis told the broadcaster on Wednesday.
An emergency response center is dealing with the "national tragedy," President Ernest Bai Koroma said in comments on state TV on Monday. "Every single family, every single ethnic group, every single region is either directly or indirectly affected by this disaster," he said.
Relief workers have limited resources available and are struggling to provide shelter for displaced people and prevent the spread of waterborne disease, according to the Red Cross.
"It's really a race against time," the federation's Diallo said. "In the past, Sierra Leone has had to deal with big cholera outbreaks so the risk of diseases is high."
— With assistance by Silas Gbandia
Before it's here, it's on the Bloomberg Terminal.
LEARN MORE