Kenya Opposition Will Challenge Vote Result in Supreme Court
By and
Opposition says results released by electoral authority void

Results announcement sparked violent protests in capital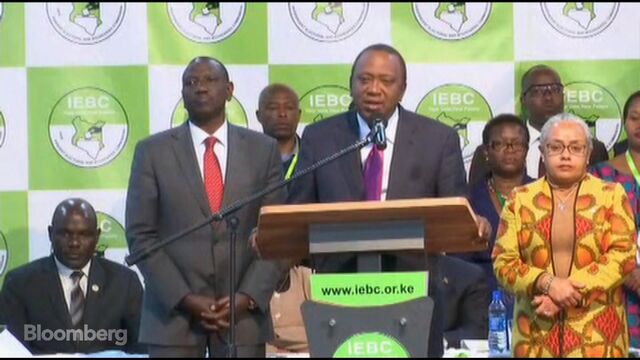 Kenya's opposition leader said he'll challenge last week's presidential election result in court, describing the declaration that President Uhuru Kenyatta won the vote as a "computer-generated fraud."
The Independent Electoral & Boundaries Commission's results released on Aug. 11 were unlawful because they weren't backed by documents that were supposed to be supplied from polling stations, Raila Odinga told reporters Wednesday in the capital, Nairobi. An algorithm was introduced to the IEBC's systems to ensure Kenyatta maintained his lead during the count, he said.
"We have now decided to move to the Supreme Court and lay before the world the making of a computer-generated president," Odinga said. "This is just the beginning. We will not accept and move on."
Odinga, 72, is attempting to overturn a result that would mark his fourth failure to win the presidency in Kenya, the world's largest exporter of black tea, and a regional hub for companies including Google Inc. and Coca-Cola Co. In all three previous attempts Odinga alleged foul play and his attempt to overturn the result of the 2013 vote in court was in vain.
The announcement of the election results sparked protests in some of Nairobi's slums, as well as towns in western Kenya including Kisumu -- all opposition strongholds. The alliance says more than 100 people died in post-election violence, mostly at the hands of the security forces. The Kenya National Commission on Human Rights put the death toll at 24, while the Kenya Red Cross said it confirmed 17 fatalities.
The police say there have been 10 deaths in Nairobi and they are still collating fatalities from other areas.
"No one should believe, and especially those behind this election fraud, that Kenyans are sheep who will willingly go along with democracy's slaughter," Odinga said. "This country is now divided between those prepared to live under autocracy and the forces of freedom and democracy."
— With assistance by Helen Nyambura-Mwaura
Before it's here, it's on the Bloomberg Terminal.
LEARN MORE