Japan Reports Trade Surplus in July as Exports Rise Again
By
Exports seen resuming role as driver of GDP in third quarter

Imports jump again as domestic demand continues to recover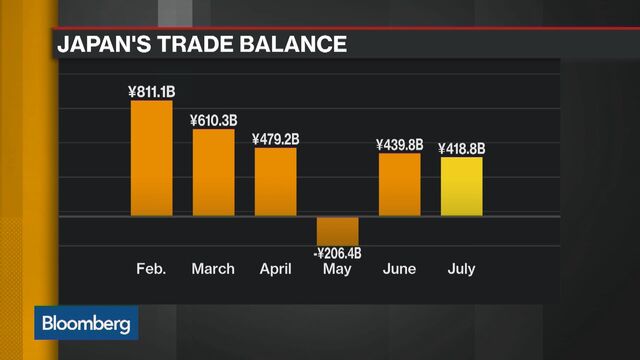 Start your day with what's moving markets in Asia. Sign up here to receive our newsletter.
Japan posted a trade surplus for a second consecutive month in July as exports continued to grow. Imports surged again, the latest sign that domestic demand is recovering.
Highlights
Exports rose 13.4 percent from a year earlier (estimate 13.2 percent).
Imports increased 16.3 percent from a year earlier (estimate 17.1 percent).
The trade surplus was 418.8 billion yen ($3.81 billion) (estimate +327.1 billion yen).
Export volume rose 2.6 percent from a year earlier, a sixth consecutive monthly gain.
Key Takeaways
The July data offer an early look at how trade might affect the Japanese economy in the current quarter. Exports had been fueling an expansion in recent quarters, but domestic demand drove growth in the three months through June, with the economy expanding at an annualized rate of 4 percent, projected as the best rate among Group of Seven economies. 
That domestic demand has been reflected in surging imports in recent months, though the impact on inflation via a weaker currency has been muted. Price gains are still far short of the Bank of Japan's 2 percent goal.

Economist Views 
"I expect external demand to rebound in the third quarter because you don't see any region with fundamental weakness when you look at the global picture," said Hiroaki Muto, chief economist at Tokai Tokyo Research Center.
"A drop in momentum in the second quarter was a one-off thing and won't continue," Muto said.
"Exports will likely return as the main driver of Japan's economy in the third quarter," said Yoshimasa Maruyama, chief market economist at SMBC Nikko Securities Inc. in Tokyo. "We are still in doubt about a recovery led by domestic demand."
"The global economy is expanding and the yen is still in weaker territory, though it has gotten a bit stronger in recent days, so the environment is supportive of Japanese exports," Maruyama said.
Other Details
Exports to China rose 17.6 percent from a year earlier.
Shipments to the U.S. increased 11.5 percent.
Those to the EU rose 8.3 percent.
Import volume gained 3.2 percent in July from a year ago, increasing for a fifth consecutive month.
Before it's here, it's on the Bloomberg Terminal.
LEARN MORE