Islamist Militants Kill 27 People in Nigerian Market Attack
By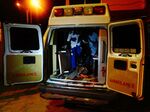 The Islamist-militant group Boko Haram killed 27 people and wounded more than 80 others in an attack on a market on the outskirts of Maiduguri, capital of the northeastern state of Borno.
Members of the militia group simultaneously detonated several improvised explosive devices in the attack that took place on Tuesday, Hassan Ibrahim, a member of a vigilante group, said by phone.
Borno state police commisionner, Damian Chukwu, told reporters Wednesday that 16 people had been killed and 82 injured.
Nigeria on Tuesday deployed 2,000 special forces to battle the militant insurgency, which is aimed at imposing Boko Haram's version of Islamic law in Africa's biggest oil producer. The conflict has killed tens of thousands of people since 2009 and forced about 2 million more to flee their homes.
Before it's here, it's on the Bloomberg Terminal.
LEARN MORE