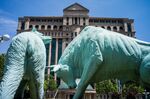 Let Lotte Chemical Titan Holding Bhd., the petrochemical producer that went public in Malaysia last month, be a lesson to all companies in how not to launch an IPO.
A wave of bullish reports by banks initiating coverage of the Lotte Group plastics unit prompted a 9 percent surge in the shares Tuesday (and a further 0.8 percent gain as of lunchtime Wednesday). But all the praise came from the very banks that underwrote the offering—JP Morgan Chase & Co., Malayan Banking Bhd., Credit Suisse Group AG and HSBC Holdings Plc—and it still wasn't enough to reverse the stock's 34 percent drop since its July debut. 
The shares are down about 20 percent over the period, compared with a 1 percent increase in the MSCI Malaysia Index. Analysts have a consensus price target 44 percent higher than the current price.

As my father always told me, it's only a mistake if you don't learn from it. So here are the lessons:
 
• Get the pricing right: The long-delayed offering (Lotte, South Korea's fifth-largest family-owned conglomerate, took the unit private six years ago) was mispriced from the outset. Bankers over-estimated demand, thinking a dearth of share sales would drum up demand for Malaysia's largest IPO since 2012. 
 
That interest never materialized and it had to cut the bottom of its price range to 6.50 ringgit ($1.51) a share, from 7.60 ringgit, and slash the shares on offer by a fifth. The stock dropped below the listing price on day one. Then, Lotte Chemical Titan bought back millions of its own shares, rendering it non-compliant with Bursa Malaysia rules that at least 25 percent of the stock must be in the hands of public shareholders. 1
 
 
• Communication matters: Investors don't like to be surprised by big stuff just weeks after an IPO. A 72 percent plunge in Lotte Chemical Titan's second-quarter profit rattled shareholders and sent the stock down 24 percent. 
 
The biggest culprit for the shortfall was a water supply interruption in April that caused plant shutdowns in Malaysia. The company included the incident in its 499-page offering document but not in a key section at the beginning on material events or risk factors. Perhaps more importantly, the company didn't disclose any financial impact, so investors weren't expecting the heavy toll on profit.
 
 
• It's better to under-promise and over-deliver: The earnings miss came as even more of a surprise to investors considering executives have spent the past few months crowing about the "resilient" market for raw materials that go into plastic and synthetic fibers used in everything from cars to appliances. Instead of using the paltry results to set more realistic expectations, the chemical maker came out with another round of rosy forecasts. 
One thing analysts got right amid the recent barrage of glowing initiation reports is that the selloff in Lotte Chemical Titan's shares probably created a short-term buying opportunity. The company is trading at a 40 percent discount to regional industry and Malaysian equity market peers, HSBC estimates.

Still, after so many missteps, it's hard to see how investors can trust these upbeat projections from Lotte Chemical Titan executives and the banks that orchestrated its IPO. There's no guarantee the production mishaps will right themselves quickly. Meanwhile,  Lotte is building new plants as raw material prices decline and overcapacity in China further pressures the industry.
Investors should focus on the numbers and tune out the bullish chatter.
Before it's here, it's on the Bloomberg Terminal.
LEARN MORE