Business
How to Spend $1.6 Trillion? Start With an Obscure German Drugmaker
The battle for Stada shows private equity's growing haste to buy.
By and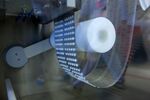 Stada Arzneimittel AG is about as unexciting as a company can be. Based in a sleepy spa town just outside Frankfurt, the drugmaker makes Snup nose spray, Grippostad cold pills, and other branded drugs for common ailments, as well as low-cost copies of medications such as cholesterol drug Lipitor and pain balm Voltaren. Founded in 1895 as a pharmacists' cooperative, Stada was long sheltered by restrictions making it complicated to sell shares—an ownership structure that ensured stability and made the company a difficult acquisition target. Yet for the past year, Stada has been at the heart of Europe's most unpredictable takeover battle, helping push its shares up by 31 percent since January. 
"The process started simply because someone decided to make the first move," said Marcus Wieprecht, analyst at Main First Bank AG. "It's not like the business has developed like a miracle or discovered a gold mine."
A key reason for the interest is that Stada is one of the last independent European players in the $200 billion generic-drug industry, which has consolidated as companies look for ways to grow. But the pursuit is also emblematic of the enormous amount of unspent cash—what the finance industry calls dry powder—in investment funds. 
Private equity funds are sitting on some $1.6 trillion in cash, the highest level since at least 2007, according to researcher Preqin. In July, Apollo Global Management said it raised $24.6 billion for the largest fund ever assembled by a leveraged-buyout firm. London's CVC Capital Partners in June said it had raised 16 billion euros ($17.9 billion) for its seventh pool of capital. And Carlyle Group LP is seeking $15 billion for a fund focused on the U.S. 
With so much cash sloshing around, funds feel growing pressure to find new acquisition targets to provide the returns investors are demanding. That's spurred them to overcome their traditional reluctance to invest in publicly traded companies, which can be difficult due to complex regulations and shareholder structures. And they're willing to pay a premium. 
Rush to Spend
The rush to spend has spawned fierce battles in recent months. Hellman & Friedman beat out rival private equity firms to buy Allfunds Bank SA from Italy's Intesa Sanpaola SpA for 1.8 billion euros; Blackstone Group LP outbid other suitors to take Aon Plc's human-resources and benefits-administration platforms for almost $5 billion; and KKR acquired a majority stake in nutritional supplements maker Nature's Bounty Co. from Carlyle for roughly $3 billion.
Europe's biggest buyout battle this year has stirred the normally placid waters of Bad Vilbel, about 10 miles north of Frankfurt.  Though Stada has been mooted as a takeover target for almost a decade, an investor called Active Ownership Capital Sarl last year pushed the company to drop rules requiring approval for share transfers and boot out five supervisory board members with a combined century of tenure. Former chief executive officer Hartmut Retzlaff departed after more than 20 years at the helm.
The changes spurred private equity firms Cinven and Bain Capital to bid 3.5 billion euros for Stada in February—at the time a 13 percent premium to the company's share price. Rival private equity shops Advent International and Permira made their own offer— sparking a bidding war. 
In April, the supervisory and management boards recommended shareholders accept a 5.3 billion euro proposal from Cinven and Bain. Even though the buyers extended the time for shareholders to agree to sell, and lowered their requirement for the minimum number of shares needed for the deal to go through, investors narrowly rejected the proposal.
After Stada replaced its top management for the second time in just under a year, Bain and Cinven tried again in July —this time at 5.4 billion euros, with an even lower threshold for shareholder participation. Owners are due to declare by Wednesday at midnight whether they plan to sell. As of noon Wednesday, 46.5 percent of the voting rights had agreed—still far shy of the 63 percent the buyers say they need for a deal.
"A Car Crash for Shareholders"
"This has been a car crash and disaster for shareholders" as hedge funds wager on higher offers even as many of Stada's small investors—still a quarter of the ownership base—are probably unaware of the unfolding drama, said Ulrich Huwald, an analyst at Warburg Research. "Some investors are being greedy for an additional two or three euros" per share.
In a crowning touch of complication, activist hedge fund Elliott Management Corp. started buying shares of Stada after the first offer unraveled, and today owns 8.7 percent. The famously aggressive fund, headed by investor Paul Singer, has declined to say what its plans are. 
Bain and its rivals say they can slash costs and boost earnings at Stada, transforming the drugmaker into a global player. The company's three-year average profit margin of 9.8 percent is among the lowest for makers of cheap copycat drugs globally, according to data compiled by Bloomberg. 
If the second Bain and Cinven attempt to buy Stada fails, people close to both funds have said they won't try again. And Stada's labor union has promised to oppose another bid, saying it would be disruptive for workers. But that's not likely to kill interest in the company as "investors still have to put their money somewhere," said Bernhard Weininger, an analyst with Independent Research GmbH in Frankfurt.
 
"Stada hasn't become less attractive," Weininger said. "Things will stay exciting."
Before it's here, it's on the Bloomberg Terminal.
LEARN MORE