Investor Up 51% This Year Says Fund Management Is 'Boring'
By
Malaysian tech stocks help Lim Tze Cheng trounce his peers

Inter-Pacific CEO donates half his salary to charity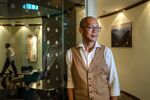 Start your day with what's moving markets in Asia. Sign up here to receive our newsletter.
Lim Tze Cheng says all you have to do is ignore the noise.
Choose a handful of stocks you know are set to boost profit and hold out until they rise. If you get the first part right, and can resist the temptation to react to daily events or try to time the market, the rest of the job should, essentially, be dull.
"Fund management is boring," says the shaven-headed chief executive officer of Inter-Pacific Asset Management Sdn., who looks like a monk without the saffron robes. "You find, you buy and there's nothing else to do but sit and wait. The busy ones are those who try to trade."
The Malaysian stock picker, who donates half his pay to charity, is trouncing everyone else in the country this year. Lim has been buying Malaysian technology and manufacturing stocks that he thinks will increase profit over the long term, betting that the rally in technology has several years to run. That's helped his two flagship funds return about six times the benchmark equity gauge in 2017.

Inter-Pacific's assets under management have surged 10-fold since Lim joined the investment firm controlled by Vincent Tan, the Malaysian tycoon and owner of Cardiff City Football Club, in December. Lim was attracted to the company because it gave him a chance to set up a social enterprise fund, an ambition he had for 10 years, he said.
Inter-Pacific is still a boutique investor, overseeing just 50 million ringgit ($11.6 million), a far cry from Lim's previous position as head of equities for the 44 billion ringgit asset-management arm of RHB Bank Bhd., the country's fourth-largest lender by assets. That's partly because the firm doesn't charge front-loading fees and foots the cost of promoting and marketing funds itself, making them less attractive to distributors than bank-led funds.
Concentrated Strategy
Lim pursues a concentrated approach, never holding more than 40 stocks, with most holdings usually making up at least 3 percent of the portfolio. Some years, he says, he won't add any new companies if he can't find good ideas, preferring to double-down on existing picks.
The Inter-Pacific Dynamic Equity Fund, which invests in firms listed on Malaysia's exchange, has gained 46 percent in 2017. A Sharia-compliant version of the fund is up 51 percent. The next-best performer of 246 Malaysia-focused equity funds has returned 26 percent, according to data compiled by Bloomberg.
The strong performance is largely due to technology companies, which make up 38 percent of the Dynamic Equity Fund's assets, according to Bloomberg calculations based on holdings as of May. Top picks include VisDynamics Holdings Bhd., a machine manufacturer for the semiconductor industry, and Notion Vtec Bhd., a maker of precision parts for hard disks and cars. Both stocks surged at least 157 percent this year.
For Lim, 37, the rally that sent a gauge of Malaysian technology stocks up 70 percent in 2017 has at least two years to run. It's thanks to cars as much as phones, he says, pointing to demand for electronic components as vehicles become more autonomous. Elsoft Research Bhd., the largest holding in Lim's Sharia-compliant fund, is a manufacturer of LED testers whose stock has doubled since Jan. 1.
"The world's biggest-selling items are not mobile phones but cars and the value is much higher," he said. "iPhones may have a few LEDs but a car has much more."
Stock Ideas
Lim says inspiration for his stock picks comes from many sources. He cites Systech Bhd., a maker of cybersecurity software that he bought after news of the WannaCry ransomware attack in May, after realizing that Malaysian investment in cybersecurity was still in its infancy. The stock has surged 65 percent since June. "We entered quite early and have made good returns."
Another example is Hong Leong Industries Bhd., which assembles and sells Yamaha Motor Co. motorbikes and spare parts. The stock has almost doubled since 2014. "I'm a motorcycle rider myself, and I noticed more and more Yamahas on the road," Lim said. "That caused me to relook into companies" selling the vehicles.
These days, Lim says he barely even watches how the FTSE Bursa Malaysia KLCI Index is doing. (It's up 8 percent this year.) He prefers to spend his time seeking new companies to buy.
"We see things very differently," he said. "I'm shut off to the market in a sense. If you ask me what is the level of the KLCI, I don't even know."
Despite his success, he says his real excitement is in making money for charity. He gives half his salary to a non-denominational non-profit organization that helps the country's needy. His social enterprise fund returns 20 percent of its gains to investors for donation to charitable causes.
"I don't come to the office thinking about how much profit I can make" for myself, he said.
— With assistance by Sarah McDonald
Before it's here, it's on the Bloomberg Terminal.
LEARN MORE