Elliott Buys Debt in Its Latest Move to Block Berkshire's Oncor Bid
By , , and
Investor said to acquire Fidelity's notes to stifle Buffett

Owning class of credit could allow Elliott to vote down deal
In the span of just 24 hours, activist investor Paul Singer made his presence felt in campaigns from London to Amsterdam before shifting focus back to his home country to escalate a takeover battle with Warren Buffett.
Singer's firm, Elliott Management Corp., has bought debt in the parent company of Oncor Electric Delivery Co. in its latest bid to block Berkshire Hathaway Inc.'s $9 billion offer for Texas's largest power distributor, people familiar with the matter said Wednesday.

Elliott's salvo is the latest in a back-and-forth tussle between billionaires Buffett and Singer, who've been clashing in bankruptcy court over the terms of the deal. Berkshire announced its bid to buy Oncor in July. The offer was soon challenged by Elliott, which tried to delay consideration of Berkshire's offer while the hedge fund cobbled together money for its own takeover proposal.
Read more about how the billionaire investors are facing up to each other
It topped a day that saw Singer up his stake in London-listed BHP Billiton Ltd. and reach a short-term truce with Dutch chemicals giant Akzo Nobel NV after months of bickering.
Elliott acquired about $60 million of leveraged buyout notes in Energy Future Intermediate Holding Co. from Fidelity Investments, one of the people said, asking not to be identified because the details aren't public. Buying the notes means Elliott and Sunrise Partners, which also opposes Berkshire's offer valued at $18.2 billion with debt, own the majority of every class of impaired credit in the holding company, the person said.
Bankruptcy courts typically require only one impaired creditor to support a deal for it to proceed. By acquiring the Fidelity notes, Elliott believes it will be able to block the deal by acting as a dissenting impaired class of creditor, the person said.
Elliott, among Energy Future's largest creditors with about $2.9 billion of its debt, and Sunrise Partners said in a court filing Wednesday that they'll vote all of their claims to reject the plan.
To read more about 'the world's most feared investor,' click here
Berkshire Hathaway Energy, the utility arm of Buffett's conglomerate, said late Wednesday that it's standing firm on its bid for Oncor's parent, Energy Future Holdings Corp. Representatives for Elliott and Oncor declined to comment. Fidelity didn't respond to requests for comment.
Bankruptcy Deal
Oncor's sale is key to ending Energy Future's high-profile bankruptcy. The company was formed a decade ago by KKR & Co., TPG Capital and Goldman Sachs Capital Partners as part of the biggest leveraged buyout in history. In 2014, it sought protection from creditors after natural-gas prices plummeted, forcing down what the company could charge for its power in unregulated markets.
Two previous attempts to buy Oncor have already been struck down by the Public Utility Commission of Texas. NextEra Energy Inc.'s bid, valued at $18.4 billion, was dismissed in April after the company refused to place protections on Oncor's credit and give it an independent board.
Winning over Texas is crucial for closing the merger. Berkshire agreed to keep those protections and more when it laid out 47 regulatory commitments in July.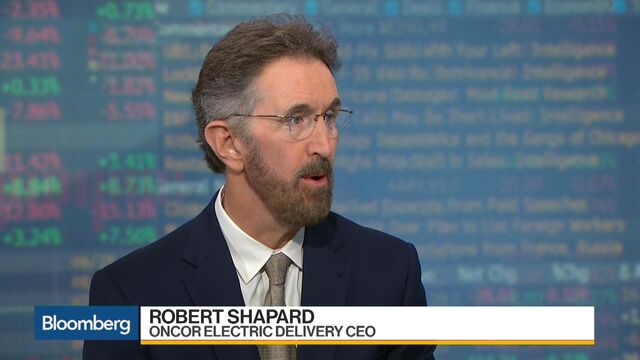 "We appreciate the continued opportunity to collaborate with many stakeholder groups in Texas and thank them for their outstanding support, which sets our offer apart from any other bid," Berkshire Hathaway Energy Chief Executive Officer Greg Abel said in a statement. The regulatory commitments have the support of 12 key stakeholder groups across Texas, according to the company.
Elliott has said Berkshire's deal doesn't value the company enough in the credit holders' perspective.
"You have two bridges you have to cross," Paul Patterson, analyst at Glenrock Associates LLC in New York, said by phone Wednesday. "To get to the other side you have to go through two processes. One is the bankruptcy court and the other is the Texas PUC."
— With assistance by Sabrina Willmer, and Noah Buhayar
Before it's here, it's on the Bloomberg Terminal.
LEARN MORE