Burkina Faso Soldiers to Be Trained in Germany After Attacks
By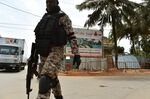 Germany will train soldiers from Burkina Faso to help the West African nation combat a surge in terrorism, according to government officials.
The announcement comes days after gunmen killed 18 people and injured 22 in an attack on a restaurant in Burkina Faso's capital, Ouagadougou, the second assault in the city center in less than two years. A West African force is gearing up to fight militancy in the region, with Mali, Burkina Faso, Niger, Chad and Mauritania pledging soldiers for the unit.
"Germany is engaged in Mali in the training of its forces, and we decided to enlarge it to the Burkinabe and they accepted," Parliamentary State Secretary in the German Defense Ministry, Ralf Brauksiepe, said in Ouagadougou on Wednesday after a meeting with Burkina Faso President Roch Marc Christian Kabore.
Before it's here, it's on the Bloomberg Terminal.
LEARN MORE